Celebrating Viola Davis and Mexicans offer ideas for border wall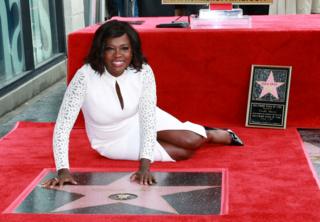 Social media users celebrate Viola Davis' historic third Oscar nod, Mexicans offer alternative plans for Trump's border wall, Ukrainians debate migration and six years on, Egyptians celebrate revolution.
All hail Viola Davis
Those celebrating the more diverse line up for this year's Oscars, are saving a special place for actress Viola Davis who received a nod for her role in Fences.
Davis' nomination for Best Supporting Actress is her third Oscar nomination. It also makes her the first and only black actress to have received three Oscar nods.
A piece of news that left her online fans over the moon.
Many praised her "impeccable" performance and highlighted what "an amazing inspiration to all women" she is.
But some of those equally excited about the impressive achievement are frustrated that "no black actress received more than three nominations before?"
Even the thrill that Davis "has been getting the recognition she deserves lately" was mixed with feelings this is "long overdue".
As far as many on Twitter are concerned the Oscars "belongs to Viola Davis".
---
Border wall turns historical
As US President Donald Trump is expected to sign an executive order to start the building of a wall on the border with Mexico, Mexicans took to social media to offer... well, alternative plans.
Many suggested a different borderline needs to be followed if the wall construction is to go ahead, one that goes back to the 19th Century.
One post included a map of Mexico reflecting its borders before its movement as a result of the Mexican-American war and asked authorities in Mexico to "make sure the wall is build it in the right place".
Others saw business opportunities in the whole affair. "From today I will be selling #AmericanWallTours tickets, with WC, bed and a nice view," said one user.
Some suggested Mexicans should be happy about the wall, as it is traffic coming from the US that is of concern.
One user came up with an innovative, if sarcastic way to circumvent the wall.
But between all the jokes, a feeling of anger about the way the Mexican government was handling the saga was hard to miss.
One post asking Mr Trump to delay the wall's construction until Mexican President Enrique Pena Nieto leaves for the USA for a planned visit next week as "he is on the wrong side of the wall", echoed the frustration others expressed.
---
To leave or not to leave?
A Facebook post by Ukrainian journalist Artur Orudzhaliyev about "lack of prospects" driving many skilled Ukrainians out of their country has sparked an emotional debate about choosing between the right to fulfil your ambitions and your commitment to your nation of birth.
Economic hardship is one of the top reasons for departures, but many also choose to pursue a future abroad due to rampant corruption and lack of reforms.
"Within my circle alone, dozens of people have left lately. Almost all of them were making good money," Orudzhailiyev said in his post.
Others are disheartened by the lack of personal liberties in the country, he added.
The post garnered a remarkable 22,000 likes and almost 1,000 comments.
But the resulting discussion revolved less around reasons for migration and more around whether or not it was the right path to follow.
Journalist turned MP Mustafa Nayem argued that choosing to leave Ukraine in search of a better life is equal to a whole generation surrendering. "I just don't want to give up," he defiantly declared.
Others offered an unwavering position labelling future leavers as traitors.
An equally uncompromising view on the other side of the debate argued that "Emigration is for successful, risk-taking and ambitious people, not for losers...".
But for Deputy Economics Minister Max Nefyodov, widely seen as a reformer, the issue was one of free choice. "Everyone has the right to their own destiny, their own happiness and mistakes," he said.
Joining the heated discussion was journalist Myroslava Gongadze who left Ukraine for the USA following the murder of her investigative journalist husband in the early 2000s.
Her view was that of commitment to Ukraine wherever you are.
"The question is not where you live but where you can fulfil your potential and be more useful to society, including that in your fatherland," she argued.
Additional reporting by BBC Monitoring's team in Kiev
---
Long live the revolution
Egyptian mainstream media chose not to give prominence to the sixth anniversary of the 25 January uprising, focusing instead on the Police Day which falls on the same day. So Egyptians took to the internet to celebrate their beloved revolution.
Famous actor Amr Waked's rallying call "Long live the January revolution and down with its enemies," resonated with thousands.
And many seemed to share the view that the uprising is the "most honest, honourable, fair and fascinating political event in the modern history of Egypt".
But some were conscious things did not turn out well for the country's 2011 revolutionaries.
"I felt my country will be one of the best in the world, then realised it was only just a dream," said one user.
A dream that "turned into a nightmare," another noted.
Additional reporting by BBC Monitoring's team in Cairo
---