Ewan McGregor no-show and #IStandWithShane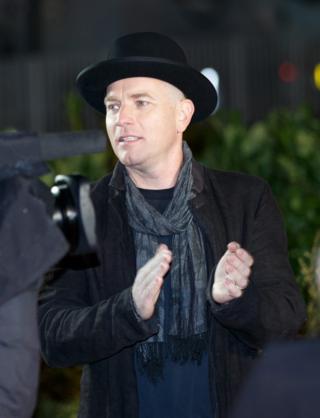 Social media debates whether Ewan McGregor is a "hero" or a hard to please "diva", support for YouTube personality Shane Dawson gets complicated and bad-hijab map angers Iranians.
The pull out that caused a Twitter stir
Ewan's McGregor decision to pull out of an appearance on ITV's Good Morning Britain (GMB) has been met with much praise on Twitter, though not everyone was impressed.
On Tuesday morning, the actor tweeted that he decided not to appear on the show after realising Piers Morgan is host. "Won't go on with him after his comments about #WomensMarch," he said.
Morgan, who had described some of the women who took part in the march as "rabid feminists", quickly fired back saying McGregor "should be big enough to allow people different political opinions. You're just an actor after all."
But in the eyes of many social media users, McGregor is a "hero" who "simply took a principled stand."
"It's only 8.48 but today's hero is already Ewan McGregor," says one post.
Some even argue that other celebrities should follow suit.
Others picked up on Morgan's "just an actor" response and ran with it.
TV presenter Rick Edwards tweets: "HOW DARE EWAN MCGREGOR MAKE A DECISION BASED ON POLITICS HE'S JUST AN ACTOR NO-ONE'S ALLOWED TO MAKE POLITICAL DECISIONS UNLESS THEY ARE MPS."
Another argues that labelling McGregor as "just an actor", makes "Piers Morgan's just a guy on a sofa stirring arguments."
But some think challenging Morgan's opinions would have been better than not appearing on the programme: "Wow, not impressed Ewan McGregor pulled out of GMB because he doesn't agree with @piersmorgan PoV. What a diva. Don't agree? Challenge him."
And then there are the sceptics who think the whole thing is a publicity stunt to promote McGregor's latest film.
---
Twitter support turns "overwhelming"
When YouTube personality Shane Dawson tweeted that he was kicked out of a military party for "not being straight", Twitter users were quick to air their views on the issue.
#IStandWithShane became a top trend worldwide as many expressed their support for him and his relationship.
In a series of now-deleted tweets, Dawson said that party organiser, conservative TV presenter Tomi Lahren, had him ejected because he was holding hands with a man. Security even "tried to break my leg", he added.
Many directed angry responses to Lahren's Twitter account.
"@TomiLahren you may be able to use your privilege to kick them out a party, but you can't kick them out ur notifs," one post said.
But as a video purportedly showing the incident surfaced, some started questioning the Dawson's side of the story. ""There's 2 sides to every story. Perhaps wait for the other side?" one post stated.
Lahren responded in a Facebook post, accusing Dawson of creating a "fake story for attention".
Dawson defended himself: "I'm not trying to be dramatic and I don't use that to get views."
Ultimately, the whole episode proved too much for Dawson who deleted his tweets, leaving his followers with a final message before going to bed:
"ok guys. i'm going to bed. this is all too much. and i don't want to spread more hate because that makes me even more sad. :("
---
Hijab mapping controversy
The Iranian city of Mashhad is trending after being announced the 2017 capital of the Islamic Culture.
But over the past two days, mentions of the city by social media users have been associated with another cultural story, albeit of a less celebratory nature.
A map, published on the Telegram channel of Mashhad municipality's office of social and cultural studies, shows locations in the city where women are said to wear bad hijabs.
Shades of yellows and browns are used to illustrate how women observe the dress code, the darker the colour the higher the level of bad hijab habits.
Social media reaction has been overwhelmingly negative, with many users complaining that their city's resources should be better invested.
One user suggests maps should be focused on "locating poor areas or number of public schools", instead of women's attire.
Religious police patrol neighbourhoods in Iran to ensure Islamic dress codes are observed, leading some to fear that the map could be a prelude for more policing in certain areas.
Ever since the Islamic Revolution 38 years ago, it has been illegal for a woman to leave the house without wearing a headscarf. The punishment ranges from a fine to imprisonment.
One particularly pessimistic commentator has posted a map of the city covered in pitch black. This he says "shows the goal the municipality wishes to achieve by next year."
But some of Mashhad residents have questioned the authenticity of the map, disputing its claims.
Mashhad municipality has published maps before to illustrate issues such as citizens' walking habits, breaching traffic rules, families' view of duties and responsibilities, and cultural and social identity.
But none has proved as contentious as the recent one, perhaps reflecting how controversial the issue of hijab remains in Iran.
Additional reporting by BBC Monitoring's Iran team
---