The world reacts to Trump's inauguration with protests, concerns and jokes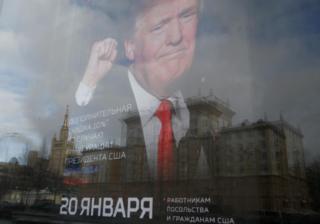 Social media gives its take on US President-Elect Donald Trump's inauguration, here is what some had to say.
As an estimated 800,000 to 900,000 people are expected to turn up at the US capital today for Donald Trump's inauguration ceremony, social media users from different parts of the world have shared their thoughts on the matter.
'Bridges not walls'
A protest movement by the name "Bridges not Walls" - referencing Mr's Trump's promise to build a wall along the border with Mexico- has resonated widely on social media.
Many users shared pictures of banners by the group draped over a number of London bridges.
A total of ten bridges in London and others in different parts of the UK were reported to have been scenes of protest.
Those taking part reflected concern over Mr Trump's position on a number of issues, including migration.
There was also a message of defiance from the LGTB community...
Other parts of the world have also joined in.
Users and activists shared photos of similar sentiments expressed in Paris, Rome and even Kathmandu, Nepal.
Mexico
Many in Mexico expressed fear about what a Trump's presidency would bring to their country.
But inauguration day chatter was full of speculation about the timing of infamous drug lord El Chapo Guzman's extradition to the US.
Some were not happy with their country's decision.
One twitter user said the extradition "highlights the crisis of rule of law in Mexico".
Others suggested the move is meant to signal the Mexican government's willingness to "get along with Trump. To prove that we are cool".
But some people took a more light-hearted approach.
One person wondered with Chapo Guzman as "a presidential gift" how much smaller will Mr Trump's wall be?
Russia
Those watching from Russia offered a mixture of farewells to Obama and anticipation ahead of the transition to Mr Trump.
Obama is now a "decent person and sound politician" who "turned out to be a good president".
However, Mr Trump's inauguration is arguably a "very important day in the lives of Russians" who are watching as their "archenemy and strategic rival Barack Obama is leaving the White House".
But those expressing optimism about Mr Trump added a pinch of caution as they wait to "find out his real policy, not pre-election PR".
The Arab world
Many in the Arab world expressed wariness after Mr Trump renewed his vow to move the US Embassy in Israel to Jerusalem.
Many argue that such a move would prove highly costly.
While others said anger in the Arab world won't affect Trump's decision.
But some people think the power transition in the US would not really make much difference to the country's Middle East policy.
China
And in China, social media largely reflected what Chinese nationals living in the US were seeing.
Many users shared posts by their compatriots witnessing the event first hand.
These included posts by users sharing images of their invitation to the inauguration and selfies in front of Mr Trump's podium. Others noted the "several confused children" amongst the groups of supporters and opponents of Mr Trump.
Those watching from close up gave the impression that the event will be some-what low-key compared to Obama's inauguration.
Additional reporting by BBC Monitoring's China and Russia teams
---