Media takes pride in Trump's criticism, Saudi social media frenzy over cinema comeback and support for Syrian refugee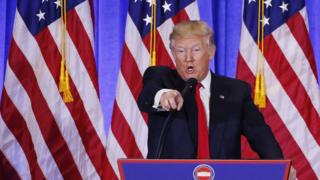 Reporters from media organisations take US President-elect Donald Trump's criticism as a badge of honour, Saudis discuss a potential comeback of movie theatres and the famous 'selfie' Syrian refugee is back in the spotlight.
Cheers and jeers for Trump's media smack-down
Donald Trump's condemnation of several reporters at a press conference on Wednesday delighted his supporters.
They have frequently branded critical media coverage of him as "fake news" and many saw his behaviour as a legitimate response to reports of allegations that the Russian state might have compromising material on him.
Mr Trump refused to take questions from CNN's political reporter Jim Acosta, telling him "your organization is terrible" and "you are fake news".
He called BuzzFeed "a failing pile of garbage", adding "I think they're going to suffer the consequences". The BBC, he said, was "another beauty".
The response from some reporters on Twitter was not what you'd call chastened.
"LMAO newsroom broke out in laughter and cheers when trump called BuzzFeed a 'failing pile of garbage'," tweeted one reporter.
The same response was reported at the BBC's US office: "Trump: 'BBC News, that's another beauty'. Cheers/laughter in our bureau," said senior reporter Anthony Zurcher.
BuzzFeed also sold a limited run of T-shirts with "Failing Pile of Garbage" on them and bins emblazoned with the name of the publication, to raise money for the Committee to Protect Journalists. "That's MISTER failing pile of garbage to you," another reporter said.
At CNN responses were equally defiant. National security correspondent Jim Sciutto quoted his colleague Mr Acosta saying "I don't think we have a case of fake news. We have a case of fake outrage...we are not going away".
Political commentator Tara Setmayer called it "completely juvenile& inappropriate behavior"..."he can't take legit criticism".
Many took Mr Trump to task for his criticism, pointing out he had spread falsehoods himself. "'You are fake news!' says the guy who spent 8 years birthering Obama, and said Ted Cruz's father helped kill JFK," said one tweet.
Some have also been praising a clip from a Fox News reporter, who made a statement in support of the free press, defending his network's rival, CNN and Mr Acosta.
---
Cinema back in Saudi?
Cinemas have been banned in Saudi Arabia for decades. So when the head of the Saudi entertainment authority said that bringing movie theatres back into the country was under "consideration", social media erupted.
Many excitedly shared the news - the possibility of it at least- while others vehemently opposed the idea, deeming cinemas religiously and culturally inappropriate.
One user argued that cinema and theatre, were not just means of entertainment but "arts with a noble message" that would help in "the fight against terrorism and extremism".
But some of those who welcomed the idea also acknowledged the caveats that may come with it. Issues of gender segregation, movie content and the deletion of unsuitable scenes were all on the list.
It was however argued that movie theatres "would allow for a better [state] censorship [on content] than what we are seeing on social media and on satellite channels".
Offering a cautious welcome, Saudi writer Muhammad al-Mas'ud, demanded a "modest" cinema that would not be religiously offensive.
But others voiced more uncompromising views. "Those who do not like cinemas or parties are free not to attend and stay at home, Saudi simply wants to become like any other country in the world," said one user.
Another suggested that a list should be compiled of all those who currently oppose the idea so that "we [can] remind you of your posts in case you decided to visit cinemas [once they are open]".
But people against the plan spoke out for Saudi traditions and urged their fellow citizens to embrace their culture and steer away from "imitating others".
Others highlighted more pressing demands for Saudis to worry about, saying it was "shameful to regard reopening cinemas as an achievement".
They argued that there are even more important and culturally appropriate alternatives that the entertainment authority should consider first.
---
Syrian refugee back in spotlight
Remember Anas Modamani? He is the Syrian refugee who rose to fame after he took a selfie with Angela Merkel in 2015.
Well, he is once again at the heart of social media discussions after announcing he was suing Facebook for "fake news".
It was mostly positive for Anas when his selfie with the German councillor went viral on social media.
But the short-term fame that the photo brought him later turned into what he described as "unbelievable headache", when he got caught up in social media allegations linking him to attacks in Germany and Belgium.
It was his facial resemblance to some of the those involved in the attacks that began to fuel the allegations.
Anas said he was 'fed up with it happening again and again" and although he had complained to Facebook he said he was not satisfied with the way Facebook handled the problem. Eventually he decided to take legal action.
A Facebook spokesperson said: "We received a takedown request from Mr Jun alleging that a specific item of content on our platform violates Mr. Modamani's right of personality. Access to that reported content was quickly disabled, so we do not believe there is any basis for him to seek an injunction."
The reasons for the legal move were described by Anas' lawyer in a video posted on his company's Facebook page.
Responses to the video, which was viewed more the 40,000 times, were mostly sympathetic.
Encouragement and support were also expressed by Syrians and Germans who commented on posts and reports about the story that were shared on social media platforms.
"Fingers crossed", "Much success" and "awesome" were just some of the comments left on a Facebook post sharing the news.
And within the Syrian online community, users praised the "bravery" of their compatriot.
Read the full story and our interview with Anas
---