Farewell to the Obamas, chatter on Trump-Russia allegations, and Russian anger over Cathedral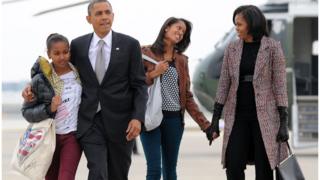 Social media shows love for America's departing first family, the Internet can not keep quiet about alleged "compromising" material concerning President-elect Donald Trump, Russians concerned over fate of famed Cathedral and Emiratis pay tribute to killed countrymen.
Farewell to the first family
President Barack Obama wasn't the only one in tears as he paid tribute to his wife Michelle and his daughters Malia and Sasha during his farewell address. On social media, his fans across the US shared in the emotional moment.
"Obama is crying, Michelle is crying, Malia is crying, Biden is crying, I'm crying," wrote one widely shared tweet.
When the First Lady shared a post on Instagram saying "So proud of POTUS and all that we've accomplished together. What an incredible journey filled with remarkable people. I love you Barack. - mo", emotional replies poured in.
The post, which was accompanied by a family picture of the Obamas, was liked over 960,000 times, with many praising what they saw as the "class, grace and style" of the departing first family.
Others expressed appreciation for the role they believe the First Lady played in inspiring women and young girls.
"You are what I want my daughter to be when she becomes a young lady," said one admirer.
But social media was also captivated by the absence of Obama's daughter Sasha from the farewell ceremony.
Where is Sasha? became a social media puzzle, with many making guesses at what was behind her decision to miss her father's last speech as US president.
And when a school exam turned out to be the reason, the sentiment turned into a mixture of humour, admiration and wishes of good luck.
"I hope Sasha Obama gets an amazing grade on her exam tomorrow," said one post.
"Sasha Obama just nullified every plausible absence from class you were thinking of using this semester," added another.
And this is likely to be the case for political science students at Mount Royal University, in Alberta, Canada, after this tweet from one of its professors which read: "Sasha Obama missed her dad's farewell address because of an exam. I need to remember this the next time that a student asks for a deferral".
---
Trump-Russia allegations hit social media
Claims that Russian intelligence agencies have personal "compromising" material about US president-elect Donald Trump had been denied by both Russia and Mr Trump himself.
But when the topic hit social media platforms much of the discussion focused on some of the more surreal allegations made in the leaked documents.
Hashtags inspired by references to some alleged inappropriate acts in the unverified documents have attracted tens of thousands of posts.
But the president-elect's supporters widely dismissed the allegations echoing his description of the affair as "FAKE NEWS - A TOTAL POLITICAL WITCH HUNT!".
Many referred to the alleged leaks as "yellow journalism".
There is also a heated discussion around the decision of Buzzfeed to publish the unverified documents in full. "Buzzfeed Publishes Shocking Fake News About Donald Trump," said one widely shared post which branded the media outlet as "#fakefeed".
Such comments were criticised by anti-Trump users, with some arguing that "#Trump supporters who traded in fake Hillary stories for the last two years all of sudden care about journalism".
---
Russians angry over cathedral handover
St. Isaac's Cathedral has long been a popular site attracting millions of tourists to Russia's St Petersburg. But concern is growing among Russians that their famed cathedral and its museum will become a burden for the city after plans to hand it over to the Orthodox Church emerged.
Many on social media accused the Orthodox Church of capitalizing on the popular tourist site after reports of the deal said it would get all the revenues from the attraction.
Prominent Russian journalist Alexander Nevzorov said the handover would give the Orthodox Church "a good sale point".
Others expressed frustration that the cathedral, a UNESCO world heritage site, "has never belonged to the Church in the first place," as this post by opposition blogger Rustem Adagamov said.
Many directed their anger at St. Petersburg's governor Georgy Poltavchenko who gave the deal the go ahead.
Some even suggested that the cathedral is a more valuable asset to the city than Mr Poltavchenko.
Such view was shared by St Petersburg MP Maxim Reznik who argued; "It's better to dismiss the city's governor Georgy Poltavchenko than take away St Isaac's Cathedral from the city".
The deal has been confirmed by the authorities who said it might take a long time to sort out the logistics ahead of the actual handover.
This includes the decision about whether or not the cathedral museum would remain open to tourists.
But it seems the fight to stop the deal is not yet over, as an online petition to stop the transfer has garnered over 95,000 signatures.
Additional reporting by BBC Monitoring's team in Moscow
---
Emiratis mourn killed diplomats
Emiratis have taken to social media to pay tribute to their countrymen who were among those killed in an attack in Afghanistan's Kandahar.
A hashtag mourning the deceased five Emarati officials has been trending in the United Arab Emirates (UAE), focusing on the "humanitarian nature" of their mission in Afghanistan.
Many posting on the hashtag praised the diplomats and hailed their legacy.
They included Dubai ruler Sheikh Mohammed bin Rashid al-Maktoum, who said that his country "takes pride in offering its sons as martyrs for humanity which the terrorists do not know".
Others sadly observed that those killed in the attack had been offering their support to orphans in the country and and had now "left behind their own children as orphans".
---