Trump's "overrated" list and a Pakistani plea for missing activists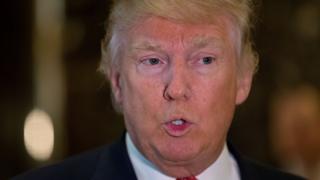 In social media today: Users offer their take on other things Donald Trump might find "overrated" and Pakistan demands the recovery of prominent abducted activists.
#ThingsTrumpThinksAreOverrated
Some social media users rightly anticipated that US president-elect Donald Trump's response to Meryl Streep's attack on him would include the word "overrated". So when Trump's tweet met these expectations, users created their own version of #ThingsTrumpThinksAreOverrated.
The hashtag, which attracted more the 160,000 tweets, was widely dominated by anti-Trump users. But Mr Trump supporters were also there to defend him, turning this into the second episode of the Trump vs Streep row which had already sparked a social media firestorm.
Actress Emmy Rossum offered her take with "Consent. Taxes. Audio recordings. Factual information. Spelling. Having a conscience. Our constitution." making her list.
Another popular post seconded some of these, adding a list of other people that Mr Trump had in the past described as "overrated". In addition to Meryl Streep, that list included "Hamilton, Jon Stewart, Jerry Seinfeld, Megyn Kelly, [and] George Will".
Some had other suggestions:
"A foundation that matches his skin tone", was one post which took a witty approach to the matter.
But Trump supporters used the hashtag as a means to reiterate their criticism of mainstream media coverage of the US election and its aftermath.
"CNN because it is the essence of #FakeNews. Watch them caught lying to their low info viewers #ThingsTrumpThinksAreOverrated", said one post.
"The media's predictions.", another one agreed.
Others did not think much of the hashtag itself. "#ThingsTrumpThinksAreOverrated appears to be trending right now. (But it's so overrated. Sad.)", according to this tweet.
---
Pakistan worry over missing activist
Pakistanis are deeply concerned about the fate of four human rights activists who have recently gone missing and have taken to social media to demand their release.
The hashtags #RecoverSalmanHaider and #BringBackSalmanHaider, named after one of the four recently-abducted men, has been a social media trend in Pakistan.
Heartfelt postings on Twitter, Facebook and Instagram offered lots of appreciation and respect for the missing activist.
"He always raised his voice for missing persons now he is missing..." said one tweet.
Authorities have said they are doing all they can to solve the mysterious, almost simultaneous kidnappings, and Haider's case -a renowned poet, professor and activist- has even been brought up in parliament.
But one concern reflected on the hashtag regards the state itself, and whether they are complicit in the disappearance of outspoken people. Shireen Mazari tweets one example: "Profs, students, activists-whoever challenges the Estab & extreme right goes missing or is killed! State fails it's ppl".
---