Fans welcome Ed Sheeran's new music, a dab too far and how black Twitter owned an unfortunate typo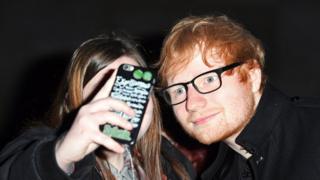 In social media today: A rapturous response to Ed Sheeran's new singles, a dance move sparks controversy in cricket, Black Twitter responds with humour to an accidental racial slur, and the Orthodox Christmas in Georgia takes a sinister turn.
#WelcomeBackEd
Singer Ed Sheeran's release of two new singles this Friday has been warmly received on Twitter, where the hashtag #WelcomeBackEd trended for several hours worldwide.
"Can you believe we're only 6 days into 2017 and Ed Sheeran has already saved 2017. What a legend," was a popular tweet, expressing a typically rapturous response to the songs.
They weren't just from your average fan either. Taylor Swift also gave it a shout out on Instagram. In entirely capitalised words too. "OH MY GOD. OKAY ITS HAPPENING. EVERYBODY STAY CALM."
Not that his admirers were unaware of the tinge of hyperbole in their worship of the singer and his music.
One user Photoshopped his face onto a religious painting saying "The patron saint of music has returned." Others tweeted edited Hollywood signs reading "Holly Ed" or "Ed is back".
We welcomed Ed back here at the BBC as well. He guest-hosted Radio 1's Breakfast Show this morning, here's a few things we learned from that.
---
Dancing on hallowed ground
The dab - a dance move which looks a bit like you're sneezing into your elbow - is raising eyebrows for the second time this week after Australian cricketer Usman Khawaja celebrated 50 runs with it in a test match with Pakistan this Friday.
On Tuesday the American teenager Cal Marshall was grounded for making the move as his father Roger was being sworn into Congress.
Then, as now, the pose puzzled some who didn't recognise it. Khawaja's move has also polarised opinion.
"That is how you lose the respect of millions of people," said one popular comment on the Australian team's Facebook page. "And that's how you gain the respect of millions!" was a cheeky, slightly more popular, response.
Why the disapproval? For some, it just wasn't cricket - not a part of the many unwritten conventions that govern the game as much as its rules.
"Khwaja (stet) scored a 50 and did the dab. In Cricket. Dab in cricket. Please do something about it @ICC," was one sternly worded tweet. "As a cricket purist I don't think you should be liking such things," said another unamused commentator.
Others though thought such responses were taking everything too seriously. "It's actually nice to see him have a laugh and enjoy it for what it is a game," said one supporter. "There was no disrespect there to anyone... Lighten up people!"
"Seriously why do people get so precious over the little things. Does it really matter if he dabs or not, we complain when players are boring, we complain if they get out playing rash shots and we complain if they have a personality just stop complaining and enjoy the game," huffed another.
Who else dabs? Here's Newsround's top picks
---
Black Twitter owns an unfortunate typo
Yahoo probably didn't intend to start a Twitter trend when it tweeted about US President-elect Donald Trump's plans to have a bigger US navy. But a typo in the word bigger - with a misplaced "n" instead of a "b" - has resulted in much hilarity among black communities online.
Yahoo deleted the problematic tweet and apologised for the mistake. But not before black people picked up on the typo and turned the phrase into a trending hashtag with jokes about what an all-black navy would look and act like, particularly under Trump's presidency.
A widely shared tweet contained an image of what the new navy's special operations team would look like; wearing sunglasses, some bling, and a man bun.
Others offered wry takes on the history of racial relations in the US and how they may play out:
"Why are you so late to the battle? Captain: We got stopped by the cops", said one tweet.
"Trump: you're going into war, Me: but I don't wanna go in, Trump: either that or you're picking cotton", said another.
Many expressed pride in the way the black people reacted to Yahoo's tweet.
"'Yahoo Finance' needs to cut a check to black Twitter for saving their company and making jokes out of this situation," said one user.
---
It's Christmas...
In Georgia! And other countries where they celebrate the Orthodox Christmas. There, it's Christmas Eve today as they celebrate Christmas on 7 January.
And just like in the UK Christmas adverts play an important part in the festivities, although they seem to do them rather differently in Georgia.
A television production company made one to wish its viewers a happy new year. But there are no bouncing animals, spare acoustics or heart-tugging storylines.
Just Grandfather Snow, who also leaves presents for children and then Grandfather Snow killing Santa with a wooden stake and dissolving his body in a bathtub with acid.
And a message written on the bathroom mirror in blood saying: "New Studio wishes you a happy Georgian new year."
The video director David Jibladze said it was aimed at promoting patriotism. "The idea was that we do not want your Western tradition and prefer the Georgian," he said in a TV interview.
But the black humour appears to have been too much for most and has elicited angry responses from many on social media.
"Those who ordered this, those who filmed it and those who shared this… video on killing Santa with joy, are idiots and violent people," said one Facebook comment.
Comments on the YouTube video, which has been viewed tens of thousands of times call it "psychopathy", "propaganda for violence" and "harmful" among other things.
There are calls for it to be removed from the internet immediately.
You thought Christmas was over? Well it is now.
Additional reporting by BBC Monitoring's Georgian team
---