From Russia with love, Iranians plead #SaveArash and Jordan's Olympian controversy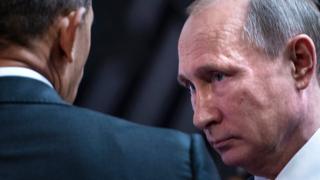 On today's social news roundup: Russia's Twitter trolling, Iranians campaign for political prisoners, Jordan's only Olympian is suspended from university, we unpick a Twitter rumour, and consider - was 2016 really "a series of unfortunate events" kicked off by Harambe?
From Russia with love
Russia may have decided not to reciprocate in response to America's expulsion of its diplomats but that hasn't stopped its embassy in the UK from continuing to troll the US.
One of the latest tweets from the embassy shows a boomerang marked "Anti-Russian sanctions" being thrown at the country and cites the country's ministry of foreign affairs saying "American people humiliated by its own president".
The behaviour is par for course for some Russian state accounts, which are not averse to tweeting informally and less diplomatically than you might expect.
On Thursday, the account posted a picture of a duckling with the word "lame" across it, saying "President Obama expels 35 [Russian flag emoji] diplomats in Cold War deja vu. As everybody, incl [American flag emoji] people, will be glad to see the last of this hapless Adm."
While the Russian embassy in the US has mainly tweeted formal statements, it, and some other state accounts, are all also emphasising parts of President Vladimir Putin's statement in response, aimed at portraying him and the Russian state as magnanimous.
"We will not prohibit #US diplomats' families and children to use their usual vacation spots in the New Year's holidays," tweeted @RusEmbUSA, adding:
---
#SaveArash plead Iranians for imprisoned hunger striker
Iranians campaigning for an imprisoned activist, Arash Sadeghi, who is on his 68th day of a hunger strike in prison, have made the hashtag #SaveArash trend worldwide on Twitter this Friday - even though the platform is banned in Iran.
Mr Sadeghi is serving 19 years for "gathering and colluding with intent to harm national security".
He was arrested along with his wife, the writer Golrokh Ebrahimi Iraee, who was also jailed earlier this year over Facebook posts and a book she was writing.
She is serving a six-year sentence in prison for "insulting Islamic sanctities", among other things.
Campaigners are calling his hunger strike "the greatest love story of all history" and urging people "Don't let it end in tragedy!"
"Arash Sadeghi is asking for his wife's freedom. And that's all, he will stop the hunger strike," said one supporter.
The campaign is also being carried out on other platforms such as Instagram, Facebook and the popular smartphone app Telegram.
Profile pictures are also being changed to a black and white picture of the couple.
Many have pointed out Mr Sadeghi's 68 days now surpasses that of IRA leader Bobby Sands, who died after 66 days.
Iran's Evin Prison, where the two are being held, is notorious for its ill-treatment of detainees.
Reports of violence against prisoners are common and the International Campaign for Human Rights in Iran says increasing numbers of prisoners have been going on hunger strike to protest against their treatment.
Additional reporting by BBC Monitoring's Iran team
---
Should a university suspend an Olympic gold-medallist?
Ahmad Abughaush, Jordan's only Olympics medallist so far - and a gold medallist at that - has sparked a bit of a debate online, after criticising the Jordanian University for suspending him for a semester because of his repeated absence from class.
"I would like to thank very much the presidency of the Jordanian University and the administration of the Faculty of Physical Education, who considered all my circumstances this semester and kept me from the registered courses... despite all the promises and pledges they made before the start of the semester," he wrote on Facebook.
Abughaush said he'd not been able to attend because of his many commitments in representing the country abroad following his winning the gold for -68kg taekwondo at the Rio Olympics earlier this year.
Responses to his post have been divided, with some insisting he be treated like "any other student" and others asking the university to reconsider.
"You did not attend a single lecture and you do not know the content of the material and you did not respect education. Yes we were jubilant about your sports award but education also needs respect," said one popular comment in response.
A sports website editor, however, thought the incident would only discourage families and young people from pursuing their talents in sport to "focus on their studies".
"Sport can be more important than studies when it turns into achievement," he tweeted.
Additional reporting by BBC Monitoring's Middle East team
---
Anatomy of a Twitter rumour
The days between Christmas and New Year can be a bit of a lacuna for news but it doesn't completely explain why the phrase #mediablackout is the top trend in the UK this Friday morning.
The hashtag appears to have started with entirely baseless questions as to whether Queen Elizabeth II had died and whether there was a 24-hour media blackout about it.
The earliest account tweeting about it simply said: "Just heard there is a news black out in the UK, this true #mediablackout #blackout @SkyNews @BBCNews @BBCBreaking."
The next, a few hours later, said: "Latest is now, that the Queen is dead! A 24 hour media blackout. Anyone know if the rumour is true?"
Not long afterward, a fake account - @BBCNewsUKI - made to look like an BBC news account, falsely tweeted that the queen was dead.
Others were quick to jump on the hoax bandwagon, or naively retweet the rumour, even though there was plenty of scepticism to go round too.
"Twitter, go home you are drunk! Too many people with time on their hands during Crimbo Limbo," said one user.
Media outlets debunked the story, and the hoax account was soon suspended, but some were taken in.
Now conversation on the hashtag has turned, inevitably, to how easy it is to use social media to get people to believe rumours, and no little despondency about the spate of negative news this year.
"News that the Queen is dead is incorrect; it's Britain that died, partly because people believe anything they read," said one user.
"BBC not denying queen is dead. BBC are also not denying that aliens built the pyramids," snorted another.
"Maybe there's been some good news and they just can't remember how to report it any more," joked a third.
It's easy enough to be taken in by fake news. If you want to hone your scepticism, read our rundown of fake stories this year, complete with handy tips on how to spot them. And if you find a story that's not true - make sure you report it too.
---
Reviewing 2016: 'One gorilla changed everything'
The news lacuna is also probably why people start reflecting on the year that's been.
All sorts of 2016 hashtags have been popular these last few days, many tinged not just with holiday ennui but anger, sadness and a sense of bewilderment.
#WriteAPoemAbout2016? Sure:
"Roses are red, Violets are green, Which makes as much sense, As 2016," was one offering.
How about #2016In4Words then?
"Series of unfortunate events," was a popular response. As were: "Guess who died today?", "More RIPs than LOLs" and "Memes removed the pain".
Some put it down to karma - "one gorilla changed everything" one user said, referring to Harambe, the gorilla shot dead when a child fell into his cage at Cincinnati Zoo.
Others have just gone a bit nihilistic: "Humans but no humanity". "Fake people fake love".
But there are always optimists, right?
"In all the awfulness, We didn't notice the countless beautiful things that happened," tweeted one user.
Hence #GoodThingsIn2016!
US writer and actor Lisa Foiles posted a whole list - from the successful discovery of an Ebola vaccine just last week to the fact that giant pandas are no longer endangered.
For many people, the good things have been animals: wagtails, rabbits, and dogs of course.
Or, in this case, a hotdog: