Charlie Sheen courts controversy, Turkey detains another journalist, and fake news in Indonesia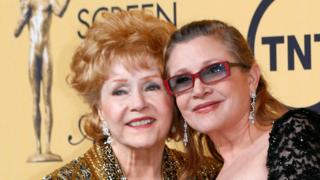 Today on social media: Charlie Sheen provokes anger with a tweet following news of Debbie Reynolds' death, there's outrage over the detention of a journalist in Turkey, and Indonesia looks to take on fake news.
Charlie Sheen lowers the tone
News that the actor Debbie Reynolds has died, one day after her daughter Carrie Fisher, has renewed an outpouring of sympathy for their family online.
Almost a million tweets have been sent about her in the last six hours and hundreds of thousands have been talking about the news on Facebook.
Some of the responses have rather veered off topic though.
Actor Charlie Sheen pinned a tweet on his timeline saying "Dear God; Trump next, please! Trump next, please! Trump next, please! Trump next, please! Trump next, please! Trump next, please!"
And while some agreed with his sentiment, his tweet generated a bit of a backlash.
"Charles!!!" admonished fellow actor Holland Taylor, who played Mr Sheen's mother in the TV series Two and a Half Men for several years.
"Even your TV mom is ashamed of you," said one user.
"Imagine the outrage if someone tweeted 'Obama next, please!'" said a popular response.
---
'Journalism is not a crime'
The detention of a Turkish journalist, Ahmet Sik, is making his name trend worldwide on Twitter.
Mr Sik posted that he was being taken into custody this Thursday. The state news agency said he was accused of insulting the Turkish state and "terrorist propaganda". He is reportedly being held for five days.
At least 81 journalists have been detained in Turkey since the government's crackdown on critics following a coup attempt in July.
Many on Twitter are condemning Mr Sik's detention, alleging it is over his criticism of the current government rather than any other reason.
Some are noting he was previously jailed in 2011, for writing a book about the influence of the cleric Fethullah Gulen and his followers in state institutions.
Gulen used to be an ally of Prime Minister Recep Tayyip Erdogan, but is now blamed for the coup attempt and the government has been purporting to remove tens of thousands of his supporters from state institutions since.
"Turkish journalist Ahmet Sık used to have to write an entire book to go to jail. 5 years later a tweet is enough. Journalism is not a crime," tweeted one supporter.
"Sad to hear detention of journalist Ahmet Şık. If he had been arrested for writing against Gulen under [the ruling party] AKP in the past, who detains him now?" asked another.
---
Indonesia vows to take on fake news
Indonesia this week declared that it regards fake news on social media and terrorism its top two security challenges in the coming year.
Indonesians use social media heavily and some of the recent fake stories have had decidedly anti-Chinese overtones.
Indonesia's Chinese community makes up only 2 percent of its population and is disproportionately wealthy. It has been subjected to violence in the past - most recently in 1998 when more than 1,000 people were reportedly killed by mobs targeting the community.
Fake news has already had real-life consequences for at least one person.
Jakarta's Chinese governor, Basuki Tjahaja Purnama, better known as Ahok, is currently on trial for blasphemy over allegations he insulted Islam by misusing a Koranic verse which suggests Muslims should not be ruled by non-Muslim.
Part of the anger generated against him has come from a widely shared video that his supporters say was edited and subtitled to make it look like he was criticising the verse, rather than those invoking it.
In the last week President Joko Widodo has also had to state that online rumours of millions of Chinese workers being brought into the country were false and exaggerated.
He pointed out the official count of such workers was only 21,000, and urged people not to believe false information.
Another false story earlier this month about China using chilli seeds contaminated with bacteria as a "biological weapon" prompted the Chinese embassy in Indonesia to put out a statement saying they had no basis and were "very worrying".
---