Fact-checking The Donald: Trumped up or totally true?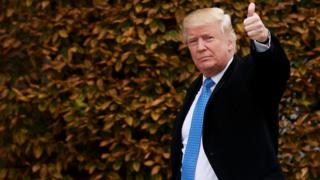 Have you ever got into an argument about whether something a politician said was the unvarnished truth or a whopper of a lie, but you were too lazy to dig out the facts to prove your point?
The smart phone has made it easier to google your own personal rebuttal information. But now one leading US newspaper has gone one step further to try to help the public scrutinise the public pronouncements of the President elect.
The Washington Post has released a browser plug-in designed to fact-check tweets from Donald Trump's official Twitter account.
RealDonaldContext, an extension to the Google Chrome browser, adds fact-checked context or corrections to some of the US President-elect's tweets to his 17.6 million followers.
"Trump has a habit of using Twitter as his primary means of communication and then not being completely accurate or truthful," Philip Bump the journalist who designed the extension told BBC Trending.
"There was a tweet recently which struck me as deserving more context and it occurred to me that there was a fairly easy way to do that which was to make this plug-in."
The tweet in question was about cyber-attacks on the Democratic Party in the run-up to the Presidential election.
"There was nothing illegal at play," Bump explains. "But people who just click through to the tweet see only Trump's claim, and none of the context. We made a tool that slips a bit more context into his tweets."
Those who have downloaded the plug-in now get a brief explainer attached to Trump's original tweet, as well as to any other tweets which Bump deems need further clarification.
"It's still in the early stages, but our goal is to provide additional context where needed for Trump's tweets moving forward and a few golden oldies," Bump says.
"Our goal here is not to jump down Donald Trump's throat about everything. The goal is to ensure that people who want to understand as accurately as possible what Donald Trump is talking about are given that additional context."
The Washington Post has a fractious relationship with the President-elect. Earlier this year, Mr Trump's presidential campaign revoked the newspaper's press credentials and accused them of "incredibly inaccurate coverage and reporting."
Bump is the first to admit that his plug-in is only ever likely to be used by those already sceptical about many of Trump's public pronouncements, but Bump does believe that, in what some have dubbed a "post-truth" world, journalists need to find new and inventive ways of getting their message across.
"I don't think the media has worked out yet how to reply to an elected official who is unconcerned about being inaccurate or telling falsehoods," he says.
"I think it's useful that we can create systems which make it easier to point out when he's being inaccurate, but it doesn't solve the problem."
Blog by Will Yates
Next story: Mums against meme trolls
Mothers fight back against memes mocking their terminally ill children..READ MORE
You can follow BBC Trending on Twitter @BBCtrending, and find us on Facebook. All our stories are at bbc.com/trending.