#BerlinAttack, the Russian ambassador's killing and animals in the spotlight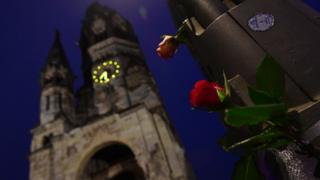 Right-wing commentators seize on the Berlin attack to advance their views against refugees, Islam and Germany's chancellor, the killing of Andrei Karlov, Russia's ambassador to Turkey, elicits widely differing views, and animal lovers on Twitter battle it out to see who has the top spots.
Right-wing commentators attack Merkel amid Berlin sorrow
The lorry attack on Berlin's Breitscheidplatz Christmas market on Monday night has dominated Twitter conversations and is being used by some right-wing commentators to castigate Germany's Chancellor Angela Merkel for her policy on refugees and, in some cases, to make Islamophobic comments.
The most popular posts on Twitter include ones by vocal Donald Trump supporters, who have blamed Islam, refugees, and Mrs Merkel for it, and claim the media are avoiding doing the same out of political correctness.
Briton Paul Joseph Watson, an active campaigner for Mr Trump based in London, accused outlets like CNN and the BBC for blaming the lorry rather than a "terrorist" for the attack.
This was in response to both outlets reporting the facts of the story as they were confirmed, with headlines such as "lorry kills nine", rather than assuming it was a terrorist attack without basis.
"How many trucks have to plough through innocent people before we acknowledge that Islam is not a religion of peace?" he asked.
Another Trump supporter in the UK, Nigel Farage, also blamed Mrs Merkel. "Terrible news from Berlin but no surprise. Events like these will be the Merkel legacy," he said.
One pro-Trump account shared a particularly gory picture of Mrs Merkel holding her hands up and smeared in blood and yet another account, which purports to admire former English Defence League leader Tommy Robinson, posted a screengrab of TV news, showing a smiling man, who could be Middle Eastern, behind the reporter, and saying "Everyone is sad about the #BerlinAttack this evening… really everyone?"
These posts are in stark contrast to one of the most popular posts from Germany, from cartoonist Ralph Ruthe, who posted: "Who is NOT to blame at #Breitscheidplatz: Merkel, the refugees, the good people. Who is to blame: The one who drove the HGV [heavy goods vehicle] #ThatIsForSure."
Another, from France, said: "Je suis Charlie, Bataclan, Brussels, Orlando, Aleppo, Nice, Berlin, the world. I'm exhausted but we'll rise again."
"When I was a kid, Christmas was peaceful. You could hear the snow fall. Not the people," said one more.
---
Andrei Karlov's killer: "Provocation" to Russia, "martyr" to others
The killing of Andrei Karlov, Russia's ambassador to Turkey, elicited starkly different responses from around the world.
In Russia, opposition politicians suggested it was a consequence of Russia's involvement in Syria. "Another Russian loss in the undeclared war in Syria! Far from the last one, I fear," one said on Twitter.
But nationalist and pro-Kremlin commentators reacted angrily, with one calling it a "provocation" and another blaming Mr Karlov's killing on "the political and media hysteria unleashed by Russia's foes over Aleppo".
In the Arabic world, the killing also resonated widely, with social media users voicing opposing views there as well.
Several have shared pictures of the killer, captioned with the comments he made on Aleppo when he killed Mr Karlov, calling him a "hero" and a "martyr". One said he was "a courageous man who defended the children of Aleppo".
"Hypocrites and criminals were angered by five bullets shot at the Russian ambassador, but they have been silent for five years during which half a million Syrians were killed by terrorist Russia," said one user.
Others, however, disagreed with the killer's actions. "It is impermissible to kill the innocent, especially those whom you have agreements with," was one comment.
"Stop making it look ok to KILL! and NO thats not a way to stand up for Aleppo!" was another.
Additional reporting by BBC Monitoring
---
Who's got the #BestSpots?
It started with a tweet of a cheetah picture from PhD student Anne Hilborn, who's studying them in Tanzania's Serengeti.
In response, wildlife researcher Sophie Gilbert asked: "What are the world's most beautiful spotted animals? Cheetah's gotta be in there... I'd argue deer fawns."
Several people agreed - but many others didn't.
One day later, a game of one-upmanship among zoologists, naturalists, photographers and other animal lovers from around the world has produced a little bit of banter and a whole lot of beautiful animal pictures on Twitter.
You should really check out #TeamFish, the #cephalopods "who do it on demand", the nudibranch - bet you didn't know that was a thing either - and all the other stunning animals on display.
In our estimation, the winner was an octopus, based on the number of retweets it got. But then the competition took a turn.
"#BestSpots, meet #BestStripes... these baby tapirs are winners all round!" tweeted Ms Gilbert again.
"Just so we're clear, once #BestSpots is resolved, I'm ready to fight on #BestStripes any time," joked one user.
But the #BestSpots and #BestStripes challenge was quickly taken up.
Before it got too far though, there was a self-declared, and reasonably justified, winner:
"The overall winner in my backyard is the Eastern Glass Lizard whose #BestSpots make up its #BestStripes!! #BOOM #DidntSeeThatComing ;-)" tweeted Michelle Marshall.
---