Fifa's not so fine, Syria's Bana is reported safe and Trump supporters claim Star Wars boycott worked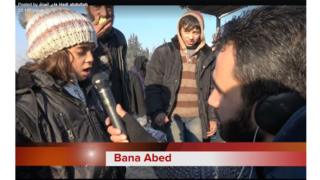 Fifa earns the ire of football fans for a poppy fine, the seven-year-old face of eastern Aleppo on Twitter, Bana Alabed, has been evacuated safely, some Trump supporters are claiming their #DumpStarWars campaign worked, and a deer in South Carolina has an unexpected workout in a gym.
Fifa under fire over poppy fine
Fifa's decision to fine England, Scotland, Wales and Northern Ireland for wearing or displaying poppies at World Cup qualifier matches played this Armistice Day has not gone down well on social media.
The decision, which raised controversy at the time, has generated even more anger after the fine.
"Well done #FIFA for cracking down on footballers commemorating the sacrifices made to defeat fascism. You are an example to us all," said one popular tweet.
"All I have to say #Fifa you are a disgrace , the poppy represents all the men & women who died for the freedom you now enjoy #outoftouch," was another.
Some, however, thought the sport's body had a point: "I do have some sympathy with #Fifa on this; they are responsible for all countries, asked for matches to be free of war remembrance."
---
Syria's Bana Alabed "finally arrived to safety"
Bana Alabed, the seven-year-old girl who has been tweeting about the situation in eastern Aleppo with the help of her mother, appears to have been evacuated from the area and arrived in the Al-Rashidin district of western Aleppo.
Journalists and aid workers from charities like the Syrian American Medical Society and Turkey's Humanitarian Relief, have posted pictures of themselves with her, saying she had "finally arrived to safety".
Bana is just one of thousands of people who have been waiting to be evacuated from eastern Aleppo. Last Friday her mother posted a video appealing directly to the US First Lady Michelle Obama to help them leave.
The account she tweets from, @AlabedBana, posted regularly until her house was bombed on 28 November. Since then her mother has posted appeals to help evacuate their family.
Pro-Syrian government accounts have alleged that the account is fake or propaganda for rebel groups in the eastern Aleppo. But the BBC has spoken to her mother in the past and citizen journalists like Bellingcat have argued there are good reasons to believe her account of the war in eastern Aleppo is real.
---
Trump supporters claim #DumpStarWars worked
Some supporters of Donald Trump are claiming that their Twitter campaign to boycott the movie Rogue One, which premiered this weekend, has been successful, despite evidence to the contrary.
Some campaigners for Mr Trump have been urging others to #DumpStarWars over unfounded claims that the movie was changed to make it anti-Trump.
They are saying the film earned far less in the box office on its first weekend than the previous Star Wars movie, The Force Awakens, proving that their campaign worked.
But Rogue One was never expected to earn as much as The Force Awakens and its takings in the US have been at the higher end of analysts' projections, according to publications like the Wall Street Journal.
This didn't stop writer Mike Cernovich from tweeting "#DumpStarWars worked! Rogue One not a huge hit, lost money compared to last Star Wars. Great!" And adding: "We will organize more boycotts."
Activist Jack Posobiec, who kicked off the hashtag two weeks ago, has also tweeted that "Rogue One was always teetering on the edge of flop #DumpStarWars gleefully pushed it over."
Their tweets have been subject to some ribbing online with one popular tweet saying, for example, that the "huge success of #RogueOne doesn't just shame #dumpstarwars dead-enders - it shows SF creators *diverse heroes sell*".
"I don't understand the #DumpStarWars," another said. "Rogue One had nothing SJW [social justice warrior, a term Mr Trump's supporters use to insult his detractors] about it. I quite enjoyed it actually. Is this just histrionics?"
---
Here comes Rudolph
An over-excited deer running rampage through a gym in South Carolina, America, is raising quite a few seasonal chuckles this Monday.
Captured on CCTV, the deer can be seen shattering a huge pane of glass as it bursts into the reception area, startling customers who scramble to get out of its way.
We then see it enter the weights room where, in a brown blur, it jumps over several bits of equipment in what one Twitter user describes as "Perfect10's!"
"Rudolf getting in his last workout before he has to fly the fat man around," jokes one Facebook user. " Maybe now the other reindeer will let him join in reindeer games," says another.
---