Who'd sit with Nadiya? Yahoo hacked and Trump's tech meeting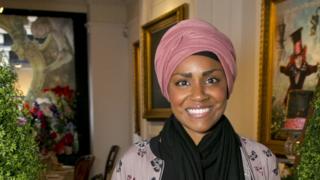 Twitter users tell Nadiya they'd sit with her after she recounts an incident of racist abuse on a train, Yahoo's hacked data raises more shrugs than ire and Donald Trump's meeting with leaders of the country's technology giants is scrutinised.
"I'd sit with you!" Twitter tells Bake Off's Nadiya
The winner of last year's Great British Bake Off Nadiya Hussain has been showered with sympathy and good wishes after tweeting about being at the receiving end of racist abuse on a train.
Recounting how a man told her "I ain't sitting near a Muslim," she shrugged off the incident, saying "His ignorance is his own ruin."
A Sikh competitor in this year's competition, Rav Bansal spoke up in solidarity. "Unfortunately a similar thing happened to me again recently. You are a much better person then he will ever be," he said.
Adil Ray, the creator of the TV series Citizen Khan also teased her, asking "Were you eating a doner kebab again Nadiya???"
And many others told her they would have been happy to sit with her.
"Seriously!? If I'd seen u I'd have squealed, picked u up & twirled u around! I apologize in advance in case this ever happens ;)" said one of the more enthusiastic responses.
"I'm so sorry for what you endure. The only nice thing about this tweet are the replies. He is not one of us. Have a nice day," said another.
---
Does anyone care that Yahoo got hacked?
Data from a billion user accounts at Yahoo may have been hacked in 2013, but reactions from many to news highlighting the scale of the breach appears to be, in summary: meh.
"Even more surprising than Yahoo's one billion user accounts being hacked is that Yahoo has at least one billion users," said one Twitter user.
"My biggest fear with the latest Yahoo hack is someone finding out that I have a Yahoo account," said another.
"I need to go visit my grandmother. I miss getting called a computer wizard for opening Yahoo Mail," was a third.
On Facebook many said much the same, with the few upset by the news demanding to know why it had taken so long for it to come out.
"In 2013! It's so important that they only managed to beat their old record of telling us 2 years late about 500M. How is Yahoo a company going into 2017?" asked one user.
"It took them over 3 years to report this to the public. I'm sorry but that alone should be a criminal offense and some jail time involved for those who knew about it," said another.
---
What happened to the blind trust?
American President-elect Donald Trump met the leaders of several major technology companies on Wednesday and some are demanding to know why his children, Ivanka, Donald Jr, Eric, and son-in-law Jared Kushner, were present.
"Difficult to express how incredibly creepy and wrong it is that Trump has his children sit in on these meetings. This is what dictators do," said one Twitter user.
"Nothing to see here. Just the dudes who will be running Trump's business to avoid conflicts of interest sitting in on meetings," pointed out another.
In response to a tweet sent by Donald Jr. saying he was "honoured to have sat in on this meeting", one user asked "What part of blind trust does your family not understand?"
But a pro-Trump commentator also said he was "glad" Mr Trump's children were there during his transition to power. "The Trump children are his best and most trusted advisors."
Mr Trump has said he intends to ensure there's no conflict of interest in office by putting his sons in charge of his business while he is in power. But he has also delayed an announcement on how he will address any conflicts of interest that might arise out of his business interests.
---
"No one looks happy"
The dour expressions of some company leaders in some pictures have also become the source of some ribbing online. "The tech giants meet with President-Elect Trump, and no one looks happy," joked one user.
Some of them openly opposed Mr Trump while he was campaigning, including Facebook's chief operating officer, Sheryl Sandberg, who backed Trump's rival Hillary Clinton.
"You know secretly right now sitting in a gilded chair at Trump Tower the voice inside Sheryl Sandberg's head is saying: Lean out. Lean out!" joked another user, referring to Ms Sandberg's book on leadership and women, Lean In: Women, Work, and the Will to Lead.
Much was also made of the absence of Twitter's chief executive officer, Jack Dorsey, given Mr Trump's fondness for using the platform.
This was especially after reports claimed he was excluded because Twitter had refused to allow the hashtag #CrookedHillary - one of Mr Trump's catchphrases during the campaign - an accompanying emoji.
While Mr Trump's supporters tweeted Mr Dorsey, demanding to know why Twitter had blocked such content, others thought he should be lauded for it.
"Twitter's @jack should be proud about being banned from the tech titans' ritual debasement at Trump throne," said one tweet.
Mr Trump's supporters, however, hailed the meeting.
Fox News presenter Lou Dobbs thought Mr Trump was "showing he'll be tech's biggest booster or he will be the sheriff".
---