Influential women and Kanye for president in 2024?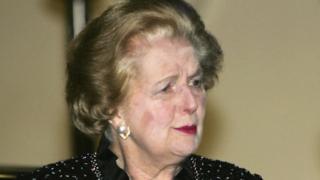 A list of the most influential women over the last 70 years in the UK raises raucous objections, in Ukraine, a war veteran's wife is lauded for her support, and entertainer Kanye West seems to hint he's delaying his presidential ambitions after a meeting with President-elect Donald Trump.
Influential or infuriating?
Who have been the most influential women in the UK in the last 70 years? The BBC Women's Hour power list was always going to raise some controversy with this question.
Margaret Thatcher, who tops the list as the country's first female prime minister, and who is described as "a female warrior leader", is one reason.
Both her name and #WHPowerList are trending today but many popular posts aren't exactly complimentary.
"I saw Margaret Thatcher trending and I thought - given the sort of year 2016 is - she'd risen again," was one example of several tweets that said the same thing.
"@BBCWomansHour disappointing that you have not chosen to honour women who make a positive impact. Thatcher? Just no," said another.
Others also took issue with the fact Bridget Jones also featured in the list - even though Women's Hour explained the fictional character "had a huge impact 'on how women felt about themselves and how women saw themselves'."
"So the #whpowerlist lauds fictional character Bridget Jones instead of the brilliant, successful author who created her? #silentscream" asked one user.
---
"True love" for a Ukrainian veteran
This photograph of an injured army general being supported by his wife is being heralded as an image of "true love" and is touching many Facebook users in Ukraine.
Yuriy Butusov, the editor-in-chief of the news website Censor.net, posted the picture on his Facebook page, explaining that the man in the picture, General Ihor Hordiychuk, was a "war hero" who was posing for a charity calendar.
Gen Hordiychuk, he said, was severely injured in fighting in the eastern region of Donbass: "He could lose his memory, and had to relearn how to move."
Mr Butusov said Gen Hordiychuk was being supported by his wife Tetyana, who was crouching so she couldn't be seen in the picture, because they both wanted him to be shown standing on his own and regarded any sign of him being supported as one of weakness.
"But really - this is a picture of great strength," Mr Butusov said. "In this photo - the power of love and dignity, which is able to bring back to life, to defeat any disease, crush any obstacles."
Many on Facebook agreed with Butusov.
"I cried when I saw this photo yesterday. We can see love in this photo. A love everyone dreams of," one user said. "Such people are the pillars of Ukraine," another added.
Ukraine's war with Russia has gone on for over two years. Some 10,000 people, including almost 3,000 Ukrainian servicemen, have been killed. Veterans, especially those who volunteered to serve in Donbass, are regarded as heroes for many and enjoy social benefits from the state.
Additional reporting by BBC Monitoring in Kiev
---
Kanye for president in 2024?
News reports of entertainer Kanye West meeting President-elect Donald Trump on Tuesday have irked many of Mr Trump's detractors, who thought everyone - Mr Trump, media outlets reporting the story, and social media users - should have focused on other things.
"Trump has no time/interest for Daily Presidential Intel Briefing. But has time to meet w/Kanye West. Like I said, u can't make this crap up," said one popular tweet.
"Dear news: Maybe skip the 'Trump meets Kanye' story today," said another.
"Kanye West arriving at Trump Tower is trending above the atrocities at #Aleppo. Social media priorities have turned the lights off," said a third.
Many accused Mr Trump - who said little about their meeting other than that they had talked about "life" - of trying to distract from a delayed announcement about how he will handle his business interests while in office, to ensure there is no conflict of interest.
"TRUMP: I'm not selling my company LAWYER: That's illegal TRUMP: ¯\_(ツ)_/¯ STAFF: People are talking TRUMP: ...march Kanye by the press," went one joke.
Mr West, on his part, tweeted he had wanted to talk to Mr Trump about "multicultural issues" but also "bullying, supporting teachers, modernizing curriculums, and violence in Chicago".
"I feel it is important to have a direct line of communication with our future President if we truly want change," he said, adding, rather cryptically, "#2024".
Mr West has previously talked about running for presidency in 2020.
---