Saudi Arabia arrests a woman over her dress, Yaya Toure raises eyebrows and pleas from Aleppo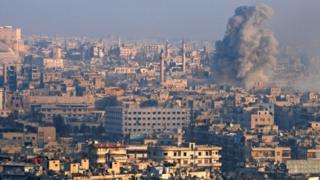 Saudi Arabia arrests a woman who posted a picture of herself in a dress, not many believe footballer Yaya Toure "unintentionally" consumed alcohol, residents of eastern Aleppo plead to save their children, a bar in Moscow is criticised over an internet meme, and James Blunt's self-deprecating wit wins over Twitter.
Arrested for wearing a dress
Saudi Arabia's arrest of a woman who posted a picture of herself on Twitter without a headscarf or abaya while standing on a street in Riyadh has divided users in the conservative country.
The woman, who has been identified in news reports as Malak Al Shehri, has been accused of challenging the laws, religion and values in the kingdom.
#Jailed_For_Taking_Off_The_Hijab has been tweeted more than 107,000 times since her arrest on Monday.
Some thought she deserved to be punished for what she did.
"This is a correct and successful decision. She thinks she is Guevara... going out without an abaya. The next day thousands would come out and be freed. Rot in your cell," said one disapproving user.
"The abaya of chastity, decency and modesty has veiled our mothers and grandmothers, now there appear amongst us those who are 'disgusted' by it at this age," said another.
Others defended her.
"The hijab is a strictly personal matter. Adhering [to it] only involves Allah. It is not based on societal desires. Why not call for trying every young man who wears shorts?" asked one user.
Additional reporting by BBC Monitoring's Middle East team
---
Yeah, yeah, Toure - "who hasn't unintentionally consumed six pints?"
Manchester City footballer Yaya Toure's conviction for drink-driving has raised eyebrows online given his known disavowal of alcohol as a Muslim and his plea to the judge that he had not "intentionally consumed alcohol".
He posted on Facebook: "I have always refused alcohol. Anyone who knows me or follows football will have seen me refuse champagne for Man of the Match performances because of my commitment to my religion...
"Drink driving is a serious crime and even though I was not intentionally consuming alcohol I accept the ban and fine and I would like to apologise for this situation."
To say some were sceptical about his response is a bit of an understatement but social media users did their best to give him some benefit of doubt:
"To be fair to Yaya Toure: who hasn't unintentionally consumed six pints and a Jagerbomb chaser? Happens all the time," said one tweet.
"How was he supposed to know that Curiosity Cola stuff contains 0.5% alcohol. Must have drunk a whole lorry load," said another.
A third guessed he "was at a birthday party and had eaten 15,276 tiramisu and most of the trifle".
Others were harsher in judgement.
"Yaya Toure isn't an example of Muslims. It's all about personality. Some people got the guts to admit wrong things they do, some don't," said one user.
---
"Save my daughter's life" - pleas from Aleppo
Residents in eastern Aleppo are posting what they say are their last messages from the area, as they report coming under heavy bombardment from government forces advancing into rebel-held areas where thousands are trapped.
"I can tweet now but I might not do it forever. Please save my daughter's life and others. This is a call from a father," tweeted English teacher and activist Abdul Kafi Alhamdo, who has also been broadcasting on Periscope this Tuesday.
"I don't know what to say... I hope you can do something for Aleppo people. For my daughter, for the other children," he pleaded.
"You might not understand what we are suffering here... don't believe any more in the United Nations. They are satisfied that we are being killed. That we are facing one of the most difficult or the most serious or the most horrible massacres in history."
In his posts, Mr Alhamdo has tried to explain why he stayed in the area. "Understand this. I can't simply surrender and being [sic] captive. I am speaking out and this is a crime," he said.
"At least we know that we were free people. We wanted freedom. We didn't want anything else but freedom."
The United Nations Secretary General Ban Ki-Moon has said he is alarmed by "reports of atrocities against a large number of civilians" in the area.
The UN's humanitarian adviser on Syria, Jan Egeland, has appealed again to Russia and the Syrian government to let it evacuate wounded and other vulnerable groups from Aleppo.
Click here to read more about messages from Aleppo.
---
Taken to task for "ugly and disrespectful" meme
Is it funny if a woman orders a Belgian beer in a bar and then gets violently punched in the face?
A woman on Facebook going by the name "Helga Tiger" didn't think so - even if it was just a popular internet meme depicting this scenario on a countertop in the Bad Bro Bar in Moscow.
She posted a picture of it on her Facebook page complaining it promoted violence and later reported that the bar's management had dismissed her criticism and appeared unrepentant.
She posted a screenshot of what she said was a conversation with its staff on Facebook where they responded: "We can't stand feminists, all the more so people without a sense of humour".
The picture has since circulated online, attracting criticism for its depiction of violence toward women.
Many say it is offensive, some that the bar should be shut down.
When Bad Bro Bar asked its own Facebook followers if they found the picture offensive, many popular responses said yes.
"Your joke is indeed not a nice one," said the most popular comment. "It is not bad enough to stop going to your bar, but stupid enough to say - oops and remove the meme."
Another said the meme was "ugly and disrespectful".
"One doesn't have to be a keen feminist (it's not about feminism at all), it would be enough to just see there's a limit to a joke," it added.
Activist Alena Popova, who founded the Protect Women project, said it showed "there are problems with attitudes towards violence in society" in Russia.
Additional reporting by BBC Monitoring in Moscow
---
Bless James Blunt
The singer has a history of taking down trolls with self-deprecating humour and he wins the internet with this tweet.
As one user said: "This man knows the meaning of 'don't take yourself too seriously'."
Another: "When I grow up I wanna be @JamesBlunt. Not an average white male musician, but an internet troll god."
---