Time's "person of the year", sympathy for Aceh and a scented candle frenzy in New Zealand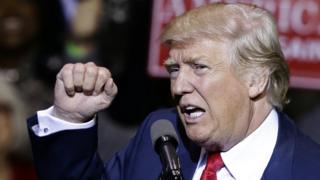 Time Magazine's pick of Donald Trump as their "person of the year" has - surprise, surprise - divided opinion. Hearts are going out to Indonesia's Aceh region, which has been hit by an earthquake and, in New Zealand, there is untrammelled delight from the winners of a competition for a scented candle from KFC.
"President of the divided states of America"
Donald Trump appearing on the cover of Time magazine as its "person of the year" has pleased his supporters - to an extent.
The magazine's announcement this Wednesday certainly cheered many of them. Future staff, such as Mike Pence and Reince Priebus, were quick to post their congratulations.
But some took issue with the manner in which it covered him.
"TIME magazine calling Mr.Trump 'President of The Divided States of America' VERY WRONG!" tweeted President Barack Obama's brother, Malik, who supports Mr Trump.
"I hear Time ripped Trump in their 'Person of the Year' article. Of course, it's Time Magazine. Doesn't matter, we still got the cover. :-)" tweeted radio host Bill Mitchell.
Several of his detractors also dismissed the magazine's pick though for different reasons.
"Just a reminder. Hitler. Stalin. Putin. Trump. Time Person of the Year. Trump actually very much deserves to be in this company." said one tweet.
"@TIME has unfortunately - but unsurprisingly - normalized Trump by naming him their Person of the Year," said another.
---
Trump: "Tweet tantrum" or saving money?
Meanwhile, a tweet from Donald Trump on Tuesday night, apparently threatening to cancel a contract with Boeing to replace the iconic Air Force One planes US presidents use, generated a number of heated accusations and questions.
Among the most discussed on social media were whether he had overstated the project's costs, whether he stood to benefit from the resulting drop in the company's share price, and whether his tweet had been an overreaction to a Chicago Tribune story, in which he was mildly criticised.
Journalist Kurt Eichenwald, who has been vocal in his opposition to Mr Trump, said the "Air Force One tweet tantrum - a lie pushed just after Boeing says concerned about Trump trade policies - is a frightening abuse of power."
Other influential anti-Trump Twitter commentators like Ronald Klain and George Takei also disapproved. Mr Klain said such behaviour was "not 'normal'"; Mr Takei that Mr Trump was "too reckless for the office".
Mr Trump's supporters, like Newt Gingrich, however, believed he was "exactly right" to challenge Boeing on the cost of plane.
"In fact he should challenge every large program," Mr Gingrich said. Other Trump supporters also saw the move as an attempt to save public funds.
"Sorry Boeing but your days of ripping off the taxpayer seem to have run into a wall," said one.
Read more about the president-elect's latest Twitter storm here.
---
Sympathy for Aceh
Indonesians are offering prayers and sympathy for the country's northern Aceh region in the wake of a powerful earthquake.
At least 97 people have been killed and the death toll is expected to rise.
The hashtags #AcehEarthquake and #PrayForAceh are among the top trends in the country, and have been tweeted tens of thousands of times.
"I mourn the earthquake in Aceh at dawn. I hope that those affected by this disaster are given resilience and strength," said one popular tweet.
Many shared images of broken buildings, particularly of the mosques in the region.
"So, the quake that I felt this morning was something much bigger than I thought," said one comment on Facebook. "While people still suffer (especially the PTSD) from the bad memory of tsunami... this disaster indeed shook us. Hopefully nothing goes wrong from here and everything will be recovered soon,"
The Indonesian army quickly offered assurance, saying "aid is coming now to reduce the suffering you are facing".
Jakarta's governor, Basuki Tjahaja Purnama, better known as Ahok, also offered his sympathies, saying "I am also saddened for our brothers in Aceh. May they stay patient and strong in facing this trial."
If you want to read more about the earthquake, click here.
---
"This candle will save my relationship"
A competition to win a "limited edition KFC Scented Candle" has thrilled fried chicken devotees in New Zealand.
The company offered the prize in a competition on social media last week, asking its followers to suggest other merchandise they would like from the shop.
First, some had important questions, like: "Does it smell like KFC?" and "Is the candle eatable [sic]?"
Then people put their brains to work, and came up with suggestions including poultry-scented or flavoured products.
Air fresheners, lip balm, toothpaste, massage oil and envelopes, "so when you lick to seal it, you get the flavour of your famous gravy", were some.
More practical things like "a KFC plate with dividers so the coleslaw juice doesn't dribble into the chicken" also featured, as did a topical "Christmas jumper with Colonel Sanders on the front posing as Santa".
In the end, the prize on Facebook went to "Shiz Irani", who proposed "KFC stamps... cause the Colonel always delivers". He said he would use the prize to light up his dinner.
The Twitter winner, @SouthernCrumble, was a tad more delighted:
And immediately had to deal with the burdens of fortune:
---