The Daily Mail on Manuel, the US government on climate change and appeals from Aleppo
Twitter users question the Daily Mail's stance on immigrants, a US government Twitter account is taken to task for tweeting a false news story on climate change, and appeals from one seven-year-old in Aleppo are becoming increasingly desperate.
Manuel was a migrant, Twitter users tell tabloid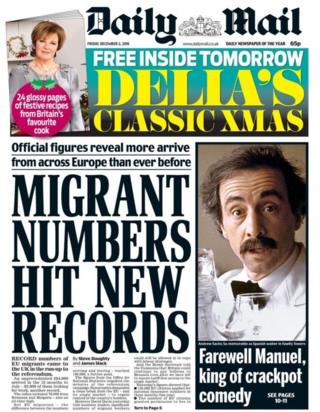 The UK's Daily Mail has come under fire on Twitter this Friday for what several see as contradictory stories on its front page.
The daily tabloid often takes an anti-immigrant editorial stance in its stories and has been accused by some of publishing "divisive" features on the topic.
On its front page today it led with stories headlined: "Migrant numbers hit new records" and "Farewell Manuel, king of crackpot comedy" - a tribute to the actor Andrew Sachs, who died on 23 November and was best known for his role as the Spanish waiter Manuel in the television comedy series Fawlty Towers.
"I won't be the first today to point out that Andrew Sachs was a migrant," said one of several popular tweets.
"RIP Andreas Siegfried 'Andrew" Sachs', a German Jewish immigrant who moved to Britain to escape the Nazis," said another. "The Daily Mail knows no irony."
Others pointed out he wasn't just a migrant: "Don't forget Andrew Sachs was a child refugee, made famous by playing a migrant worker doing a job Brits just don't seem to apply for."
---
"Fake news" - scientists slam a US account over a Breitbart article
Scientists on Twitter have criticised a US government account for tweeting an article questioning climate change from the right-wing website Breitbart.
The account, @HouseScience, belongs to the House of Representatives' Committee on Science, Space and Technology, which is responsible for agencies like Nasa and the Environmental Protection Agency.
On Thursday it tweeted the story headlined "Global Temperatures Plunge. Icy Silence from Climate Alarmists".
Democrat Senator Bernie Sanders was sharpest in retort: "Where'd you get your PhD? Trump University?" he snorted.
Several scientists also expressed their disapproval.
"Dear @HouseScience, tweeting fake, false science news from @BreitbartNews makes you look really, really bad," said Peter Gleick, an expert on water and climate issues, who called the article "fake news, bad science, and basically, crap".
"You know it's fake news if (1) it calls scientists 'alarmists' + science 'alarmism'," tweeted another climate scientist, Katharine Hayhoe.
Others asked whether there was a conflict of interest involved.
"Wait a minute - Lamar Smith, Chairman of the Science, Space, and Technology Committee writes for Breitbart?" asked one tweet. (Answer: He has done, though not frequently.)
Breitbart's response was not exactly tongue-in-cheek, but not far off.
---
"We give up on life"
Seven-year-old Bana Alabed and her mother Fatemah, who have been tweeting about life in the besieged eastern side of Aleppo for months, are now worried that the attention their tweets have brought them will also make them targets for the government troops advancing in the area.
Tweeting this Wednesday, Fatemah said she and Bana had received death threats. "We are convinced Syrian Army will target us soon because of our account and messages," she said, before appealing directly to US President Barack Obama for assistance.
"Dear @POTUS we are a family suffering along with many others in East Aleppo. Any help to get us far away from the battlefield?" she asked,
Bana's account has received a publicity boost in recent weeks as author JK Rowling started corresponding with her and is actively retweeting her posts.
Bana's tweets have taken on a more desperate tone as food and fuel supplies dwindle in eastern Aleppo.
"I am sick now, I have no medicine, no home, no clean water. This will make me die even before a bomb kill me," she tweeted this Thursday. "We give up on life."
Her Twitter account has also increasingly attracted the attentions of people running pro-government accounts. They accuse Bana's mother of using the account as propaganda for opposition groups.
---