Egyptians using Facebook for medicine, a Saudi dispute over a dress and Trump supporters want to #DumpKelloggs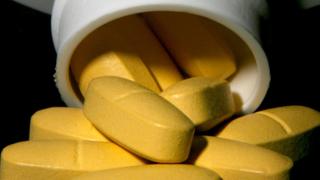 Egyptians turn to Facebook to deal with a medicine shortage, a picture of a woman on a street without a headscarf or abaya prompts a heated debate in Saudi Arabia, it's all snap crackle and pop on Twitter as Trump supporters and detractors argue, and Brazilians tweet heartfelt thanks to Colombia.
A pharmacy on Facebook
Egyptians have been facing a shortage of medicines since the government devalued the Egyptian pound earlier this year, making it most costly and less profitable for pharmaceutical companies to import some active ingredients and produce some medicines.
In response, one group of activists, doctors and pharmacists has launched The Facebook Pharmacy - a public group that they hope will help people find depleting stocks and deal with increasing prices.
It has gained more than 5,200 members in the two weeks of its existence, with users posting photos of the medications they need or doctors' prescriptions, or suggesting types of medicines they want to donate.
The group's administrator, law professor and activist Sameh Samir, said its members include doctors, pharmacists and others who volunteer to receive medicines from donors and deliver them to those in need.
"People are dying. Children who suffer from cancer cannot find treatment. Even wealthy people cannot find the medicines they need," he told the BBC.
Users have expressed their gratitude: "I really thank the noble brother who offered [the drug] at its affordable price... He saved me and he is ready whenever he finds the drug again to deliver it to whoever needs… I am a pharmacist and yet I couldn't find the drug, but he did his best and got it," said one.
Additional reporting by BBC Monitoring in Cairo
---
Death threats for a dress
A picture of a Saudi woman standing on a Riyadh street, without a headscarf or an abaya - the loose, black dress all women are required to wear outdoors - has created a stir on social media there.
The picture, purportedly of a woman called Malak, or Angel, AlShehri, prompted more than 9,000 tweets of a hashtag calling for her arrest.
Some were aggressive and threatening - "kill her and [feed] her body to the dogs," being one extreme example - but the majority of tweets actually defended her.
"Imagine that you only slept then woke up to find people calling for your arrest only because you changed your clothes. Just so you realise how unjustly women are treated," said one user.
Another noted wryly that the picture disproved all the reasons given for why women needed to wear such clothes and be accompanied by men: "She left and returned without ... a guardian, without harassment, without rape."
Saudi Arabia is a deeply conservative Islamic country, where women are still denied freedoms such as driving or moving about outside the house without being accompanied by a male guardian.
Additional reporting by BBC Monitoring's Middle East team
---
Cereal wars
A little hashtag skirmish has erupted on Twitter after the American cereal company Kellogg's said it would stop advertising on Breitbart, the right-wing website whose chairman, Steve Bannon, has been appointed head of strategy in Donald Trump's incoming administration.
The site called on its readers to #DumpKelloggs and sign a pledge to never buy the company's products again. Just over 105,000 people signed up in the first day. The hashtag trended on Twitter with a 155,000 tweets, many denigrating the product.
"Before you #DumpKelloggs call the 1-800 number on the cereal box tomorrow and request a refund. They promise satisfaction is guaranteed!" said one popular post.
A few hours later though, #BreitbartCereals rose up the trending ranks to counter it, though with much fewer posts, 34,000.
Many used the hashtag to criticise the website's political stance or to poke fun at Mr Trump, making puns out of cereal brand names such as "Honeycomb-over", "Frosted Shredded Rights" and "Grope Nuts".
But some also used it to hit back at Trump detractors. One example featured a box of "Lucky Trumps" for example, and was captioned: "You don't use milk. You use liberals' tears."
Want to read more on this story? Click here.
---
#GraciasColombia
Brazilians have been tweeting #GraciasColombia to express their appreciation for the solidarity and sympathy displayed by Colombians in the wake of a plane crash that killed 71 people, including most of a Brazilian football team travelling on it.
Brazil's Chapecoense Real team should have played Colombia's Atletico Nacional in a cup final on Wednesday.
Instead, Colombians filled a stadium in Medellin, dressed in white, bringing flowers and candles or turning on mobile phone lights for a minute's silence. Thousands stood outside the stadium, as similar ceremonies were held in Brazil.
Tributes to Colombia, for what many described as a lesson in humanity and empathy, came from all over the world, but were most heartfelt from Brazil.
One Twitter user said: "Colombians deserve eternal respect from Brazilians. These people have a lot of humanity!".
"Ten thousand people. On the street. For a team that is not theirs. #GraciasColombia," said another.
"These images are emotional and touch the soul. They represent everything, there is no need for words. Pain is an universal language," said a third.
Additional reporting by BBC Monitoring
---