The people who can't quite get a government job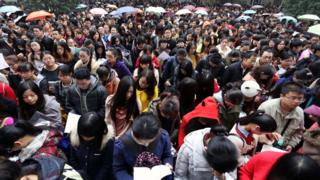 It's a fiendishly difficult "brain burning" exam that promises those who pass a job for life. And that prize is so coveted that some come back again and again for more test punishment.
China's National Civil Service Exam or "Guokao" took place this week. Every year around a million people take the test in an attempt to get one of about 27,000 government jobs dubbed "iron rice bowls", with guaranteed job security, steady income and benefits. Chances of success are 36 to one this year.
The exam is the talk of Chinese social media, and along with hashtags such as #Guokao and #2017Guokao, Weibo users were fascinated by the story of one woman who has taken the exam six times.
Local media reported that the woman, identified as 30-year-old Mrs Huang, is currently working as casual staff in a government department, so she only earns half of the salary of permanent staff who've passed the exam. She's failed on five attempts to pass and, undaunted, sat it again this year.
Huang told a local reporter that she would continue to take the exam even if she failed, until she is disqualified by age, which normally happens at 35 unless applicants have a master's or PhD degree.
Weibo users praised Mrs Huang's persistence and hard work.
"The spirit of dedication is amazing," wrote user Yang Zimo. "Not everyone can hang on there. Keep on trying, the result doesn't matter. Life is a learning journey. Don't regret it."
But others said there were alternative routes to success and questioned her need to take the same exam again and again.
"Are there no other ways to follow if you fail the national civil service exam? Why do you torture yourself?" one asked.
"It's better to spend time on something else," another added.
The exam consists of five hours of written tests and interviews, includes 135 multiple-choice questions that candidates have to answer in two hours - which means there's less than a minute to answer each question. The questions cover a wide range of topics, including maths, world affairs, language, and logic.
This year, the test also covered "spacecraft", "artificial intelligence" and other hot topics, while the essay topic was "water wisdom and urban development." And after the test, there are further interviews.
The exams fill jobs in central, provincial and municipal governments, and applicants can specify the position they're aiming for, which makes some posts more competitive than others.
This year for instance, a total of 9,837 people have applied for the most competitive job in the general office of the China Democratic League's Central Committee, although there is only one position available. At the grassroots level though, 223 vacancies drew no applicants.
Many of those who took the exam shared their feelings on social media. Some users said the test was "brain burning" and they had used up their "prehistoric power" - a reference to a famous quote from Chinese Olympian bronze medallist, Fu Yuanhui. The #Guokao hashtag has been viewed over 2.5 billion times.
Huang is not the only woman who's persistent about taking the exam.
Yolanda from Shandong told BBC Trending that she also took the exam six times before she passed in 2016. "I was under pressure from my family and my boyfriend," she says.
"Before I finally passed the National Civil Service Exam, I attended a training class and concentrated on preparing for the exam over five months on a full-time basis. It's really hard work plus luck."
However, she has a word of warning for Huang.
"After working less than one year, I actually regretted my decision." Yolanda admitted.
"The civil service job is boring and I do the same work day after day. I work in the financial department of the water conservation bureau. I'm very enthusiastic but work is not that busy."
Her sentiments were echoed on Weibo by one user going by the name Linyuan-y who passed the exam two years ago. "This is like a siege. People from outside of the circle desperately want to get in, but people inside also want to quit the jobs and explore the world outside. If you are capable, why not try to challenge yourself and explore the wider society?"
Blog by Ruhua Xianyu
You can follow BBC Trending on Twitter @BBCtrending, and find us on Facebook. All our stories are at bbc.com/trending.
Next story: "Very sad but happy to be alive"
Syrians in east Aleppo are continuing to document their circumstances in English on social media, as government troops advance into the area. READ MORE
You can follow BBC Trending on Twitter @BBCtrending, and find us on Facebook. All our stories are at bbc.com/trending.