#BlackFriday alternatives, fake rice worries and condemnation of Arab glee over Israel's fires
Stuck in a #BlackFriday queue or just not interested in shopping? We've got some alternative suggestions for you. Also, reports of "counterfeit" rice in Singapore revive unfounded worries about the Asian food staple and there is condemnation of the glee expressed over Israel's forest fires
#BlackFriday alternatives
"If you need it today, the uncontrollable desire to buy things is called oniomania," says lexicographer @susie_dent aka "That woman in Dictionary Corner".
If shopping as an extreme sport is not your cup of tea though, there are alternative interests you can engage with on social media.
Nasa is hijacking the hashtag, suggesting you consider monster black holes, instead of deals, and find out how giant black holes form, instead of how quickly queues do.
If you're looking for a pet, charities like The Dogs Trust and Birmingham Greyhound Protection are asking you to consider the black dogs in their care.
And homeless charities like Breakfast In A Bag and Shelter are also urging you to consider giving instead of getting.
"For the 120,000 children homeless in Britain, every day can be pretty dark. Instead of saving on #BlackFriday, give," urges Shelter.
The idea is finding approval online: "Don't get sucked in by the 'Black Friday' hype; help someone else out instead," said one user.
---
"Counterfeit rice" story in Singapore revives fake fears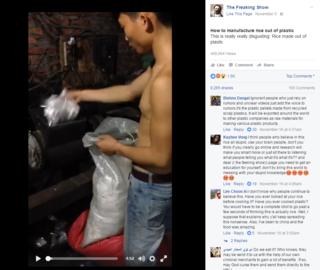 Reports today that Singapore had seized over 5,000 bags of "counterfeit rice" revived fears among social media users in Asia over an unfounded but common internet scare about rice being adulterated or fake.
Videos purporting to show the creation of plastic rice in factories - in one instance from plastic bags - are prevalent on Facebook, YouTube, Twitter and chat apps like WeChat. Reports about rice being adulterated with plastic, or even little rolls of paper, also abound.
Such stories have been shared throughout Asia for years and are spreading further. In Nigeria, for example, a video of a local woman saying she believes she has been sold plastic rice is being shared online today.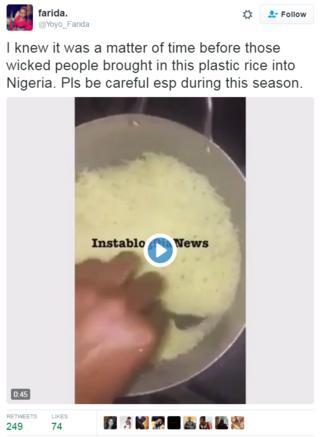 But food authorities in the countries where these reports have spread have yet to find any evidence to substantiate them. The word "counterfeit" in today's news actually refers to the bags of rice carrying a counterfeit trademark, The Straits Times reports.
Although reaction to the story has not been widespread, the number of social media users who believe the word "counterfeit" refers to the rice being fake, shows how prevalent the myth is.
"I've seen videos of plastic being milled and turned into rice in either China and Vietnam. Imagine the despicable acts of some greedy individuals. Plastic rice," said one Facebook user.
"It's made with a mixture of plastics and chemical , it's very dangerous when eaten it that will cause cancerous [sic]," said another.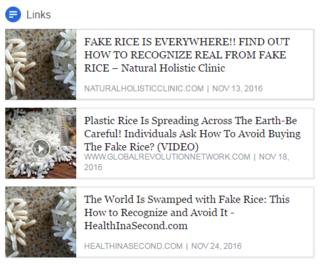 ---
Glee over Israeli fires condemned
The glee many Arabic-language Twitter users expressed over fires burning in several parts of Israel has been further condemned today.
#Israel_on_fire trended in several Arab countries yesterday and the fires are continuing to feature widely on social media in Israel.
Several Israelis have highlighted such tweets and expressed their disgust for them.
"Some of the sick, vile hate I've received on-line from people celebrating #HaifaFire & #israelisburning! The sheer depravity of some!" tweeted journalist and lawyer Arsen Ostrovsky.
Muslim reaction was mixed. There were those who condemned the gloating, such as this popular tweet, which said: "As a Muslim I'm ashamed to see other Muslim finding joy in this hashtag. Stay strong Israel and may you overcome this."
But many continued to claim that the fires were a form of retribution against Israel for its occupation of Palestinian land and to take issue with what they saw as double standards in regard for Israel and the Palestinians.
"The world pays attention to #israelisburning but those same Israels are killing my people everyday, lol this world is a joke," said one tweet.
"Children hospital in Gaza is out of service due to power cuts and no one cares, while the world sends help to Israel!" said another.
---