Fighting back after being criticised for having grey hairs
By BBC Trending
What's popular and why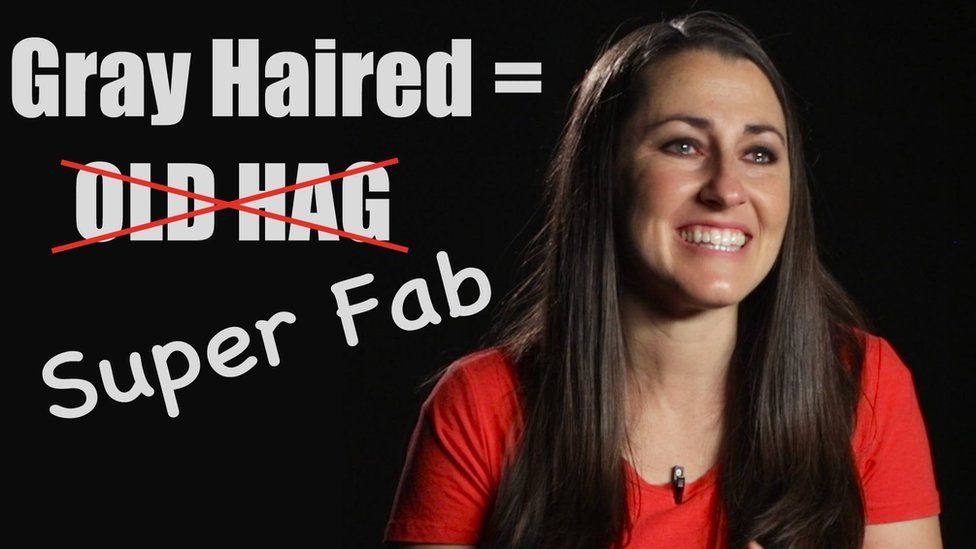 When a 31-year-old food blogger was told her grey hairs made her look like an "old hag", she decided she wasn't going to take it lying down, and her video response has become a hit on social media.
At the end of October, Rachel Farnsworth noticed a comment, left by someone called Beth, on her food blog at the bottom of her recipe for Texas chilli beef. But rather than focus on the meal, the post commented on Rachel's hair, saying it made her look like she was a 70-year-old hag and she should dye it.
At first, Rachel wrote a simple reply: "Stop shaming women for their appearance," she said. "Growing older is not something to be ashamed of. It is not something we should be forced to hide and cover up."
Although Rachel wasn't hurt by Beth's comment, she says: "I felt passionate. I decided to record a video response as an experiment in video making. I didn't anticipate actually posting it anywhere. Some friends saw it and encouraged me to post it online."
"My husband likes my grey hair and has asked that I don't dye it because he wants us to go grey together. How cute is that?" Rachel says in the video. "For me, having grey hair means I'm still alive. A lot of people don't have the privilege to ever live to be old."
Six years ago, Rachel experienced congestive heart failure, liver failure, and kidney failure. "I was pregnant with my second child at that time, I was diagnosed that I had a rare autoimmune disease - Addison's Disease. The disease ravaged my body and left me disabled. I even have a handicap placard," she told BBC Trending from her home in Salt Lake City, Utah. "It took me a long time to fight back and accept who I am with disabilities."
Since then her priorities have changed and she says all she wants to do is cherish every moment. "I'm unlikely to live until 70 years old. Any flu or infection could affect my life. I feel lucky to be alive. I just want to be myself. I don't need to cover myself and live for others. I've learned to be confident and be natural."
As a food blogger and chef, Rachel has appeared on television - she's been advised to wear fake eyelashes, a wig or dye her hair before but she's refused.
"I choose to embrace the natural aging process... Every sign of aging that I have is a sign that I am still alive. How can I not embrace that? I can only hope to one day see old age."
Rachel's been overwhelmed with the support she's had since she posted the video - there are more than 1,000 positive comments on her Facebook page from both men and women.
"Thank you for speaking up, for yourself and many others, we all applaud you," wrote Christine Ross.
"You are a very beautiful lady," wrote Thomas Tommy. "Your husband is a very lucky man. I envy him. Thank you for sharing your videos. I always enjoy them."
"Tears flowing, you are beautiful and your message will resonate with every woman. This critic will hopefully see themselves and repent and turn from criticism to loving and empowering others," added Gretchen Truebe.
A remixed version of a song by an American pastor has inspired a viral Thanksgiving dance craze - the U Name It Challenge. READ MORE.