Indians test their cash, Russians laugh at a false blog post and Twitter accidentally suspends its CEO
Today we tell you why Indians are putting their new 2,000-rupee notes under water and why Russians are mocking a false blog post. Also: Alt-right accounts are crowing as Twitter suspends its CEO's account by mistake and Chinese users are not impressed with reports that Facebook has worked on software to censor news feeds.
Indians put "bleeding" new notes to the test
If you only get a few weeks' notice to adjust to 86% of the country's cash being taken out of circulation, and then have to live with the ensuing chaos, it shouldn't be surprising that anything to do with currency gets given the side eye.
Perhaps this is why there's been a spate of Indians on social media putting the country's newly issued pink 2,000-rupee notes in water and pointing out that they bleed colour.
One YouTube video of such a test has been viewed more than a million times and many on social media are remarking on the fact that the note does bleed.
This is despite Economic Affairs Secretary Shaktikanta Das confirming that the new notes, like the old ones, will lose colour if rubbed when wet.
And it is not the only suspicion people have about the 2,000-rupee note.
Others are that the notes contain a tracking chip, or that ATMs are dispensing damaged notes, or that some notes have been printed with errors or typos when, in fact, they are just in Konkani, one of India's many languages, which uses the same script as Hindi.
Some are rolling their eyes at the fuss.
"Now comes the rumour of colours bleeding from 2000 note. These rumour mill mongers are way better than us scriptwriters," joked one user.
Others are just laughing.
Additional reporting by BBC Monitoring in Delhi
---
Russians rubbish fake blog post
Russian social media users are mocking a blog post claiming that opposition leader and anti-corruption blogger Alexei Navalny owns a 3m-euro ($3.2m, £2.6m) villa in France.
Navalny himself has pointed out that the photograph of the villa is actually that of the Villa Ephrussi de Rothschild, a well-known attraction situated between Nice and Monaco, and put it down to an attempt by the ruling party to smear his name.
"United Russia has found 'Navalny's house' in France. To illustrate the fake, these idiots have used a photo of Rothschild's house," he tweeted.
Many other bloggers also joked about the allegation, pointing to inconsistencies in a document purporting to show the property belonged to Navalny.
"They even used a font for 'Alexei Navalny' which is different from the one printed in the rest of the document," said one Twitter user.
Another agreed: "It's a case of someone keeping a blog and not knowing how to use MS Paint."
Additional reporting by BBC Monitoring in Moscow
---
Oops, I'm doing it again

What is going on with social media platforms and their CEOs? After Facebook accidentally made it look like Mark Zuckerberg was dead two weeks ago, today Twitter accidentally suspended Jack Dorsey's account.
It was restored a couple of hours later but many were quick to notice, not least alt-right supporters of President-elect Donald Trump.
"When the CEO of twitter is trying to delete everyone with an opposing view and accidentally suspends himself. Hang in there @jack," mocked one tweet.
Such accounts frequently allege that the platform is biased against them, not least after Twitter's suspension of several of their figureheads last week.
Some took the opportunity to mention Gab, a platform some users are promoting as an alternative to Twitter. Gab, which says it puts "free speech first", also couldn't resist a few digs: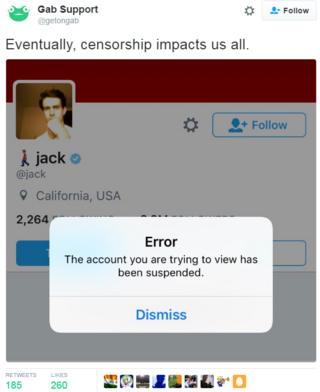 Some also took the opportunity to hijack the conversation around the suspension by circulating tweets Mr Dorsey sent 10 years ago, mentioning Satanic Verses and alleging that this had something to do with it.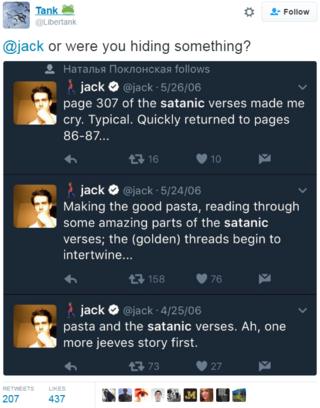 The more well-read were quick to point out this was likely to refer to the title of a well-known book. "PEOPLE! Before you freak out at @jack reading 'Satanic Verses', you NEED TO KNOW that it's a book about Islam, by @SalmanRushdie," said one tweet.
---
Losing face
Chinese social media users have widely criticised reports saying that Facebook has been working on censorship software for China.
Many say they don't need a censored version of the website.
"If you're really coming to China, you should drop the 'face' from your name," a user writes. "You'll be losing face anyway."
Some are not convinced the social media site is that desirable anyway. A few users say they would rather have access to Twitter and others believe established social networks in China, such as Sina Weibo, will remain more competitive than Facebook.
"Rationally speaking, Facebook is too difficult to use - it isn't as good as Weibo," one user said.
Additional reporting by BBC Monitoring in Delhi
---