Sympathy for Kanye, a #MannequinChallenge fail and Standing Rock reconsiders support
Kanye West's hospitalisation prompts a well of concern for his mental wellbeing, Syrian activists are being criticised for not thinking through a #MannequinChallenge and indigenous protesters at Standing Rock urge their supporters to carefully consider how best to help them
Sympathy for Kanye
US rapper Kanye West's admittance to hospital has generated sympathy and calls for greater understanding of mental health issues, though it is not yet clear what West has been admitted for. Sleep deprivation and exhaustion have been mentioned in reports.
This comes in a week in which he has been widely barracked for his behaviour at two concerts, where he performed only a handful of songs and talked at length about politics and other performers instead. Yesterday he abruptly cancelled another show.
"The easy thing to do is make Kanye West jokes. The compassionate thing to do is hope he's ok and gets the help he needs," said one popular comment.
"Ya'll gonna pray for Kanye West like ya'll prayed for Cudi [a rapper who checked into rehab last month for depression]? Or do we only care about mental health when it looks respectable?" asked another.
"Seriously praying for him. His latest rants spelled trouble (a cry for help) and I am so glad someone stepped in," added one Facebook comment.
---
#MannequinChallenge fail
A #MannequinChallenge video put out by media activists in Syria featuring the White Helmets has backfired and is now being used by their detractors to say they fake their rescues.
The White Helmets are a group of about 3,000 volunteers who provide rescue services across the country. They say they are non-partisan and have provided eyewitness accounts from battle hotspots like Aleppo. They were nominated for this year's Nobel Peace Prize.
On social media, pro-Russian and pro-Syrian government accounts have accused of them of faking rescues and reports, and allege they have ties to jihadist groups.
The video, which looks to have been put out by the Revolutionary Forces of Syria - activists who support groups opposing President Bashar al-Assad - shows two White Helmets frozen in the act of rescuing a man trapped by rubble.
The YouTube video linked to from some of the earliest tweets has now been removed but copies are still available on Twitter and have been uploaded to other sources like the Russian video streaming site Rutube.
The group's online detractors have pounced. Even supporters have rolled their eyes.
"And just like that, the White Helmets cast doubt on their past vids. All because they wanted to jump on a social media trend & get some rts," said one comment.
---
Being a good ally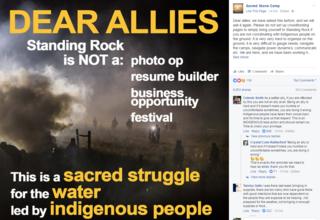 A post by the main camp of protesters opposing the North Dakota Access pipeline in America has sparked a debate about indigenous culture and the nature of the protest.
Addressed to its "allies", the Facebook message asked people who planned on coming to make sure they coordinated with the indigenous people there first.
"It is very very hard to organize on the ground, it is very difficult to gauge needs, navigate the camps, navigate power dynamics, communicate etc...
"We do not need you to come and save us, we need your prayers and your resources and your actions.
"Please look around yourself if you are at camp... Are you creating space that is dominantly non-indigenous? If so, please consider that this is a furthering of colonization, and take action to step back, and recenter indigenous sovereignty."
Many people agreed with the message. "I was there last week bringing in supplies... there are too many who have gone there with good intentions that are now dependent on the people they are suppose to be helping," said one response.
"This is an INDIGENOUS lead action and should remain so. Time to check your privilege," said another.
But others disagreed. "This concerns all..Not just Indigenous people... Many are mixed blood as well.. Many do not follow traditional ceremonies.. respect them as you would have them respect you," said one comment.
---
Don't mention the war
Al-Jazeera TV has provoked an angry response from Algerians on social media, after airing a former army officer's account of atrocities he says he witnessed while serving during the Algerian civil war in the 1990s.
Former Special Forces Officer Habib Souidia has written a book about his experiences. In it, he alleges the army killed children and tortured people to death.
The Algerian civil war was a violent one which claimed the lives of an estimated 200,000 people.
After Al-Jazeera featured his allegations in a programme this weekend, the hashtag #AlgerianArmyIsCrushingYouJazeera was launched, and more than 13,000 tweets were sent with it the next day.
Most were highly critical of the programme. Angry comments were also posted on the programme's Facebook page.
One popular image on Twitter featured the crossed-out photos of Algerian journalists working for the channel. "The army is ours and the country is ours. What's your business? Do you want to bring America to rape us...?" asked one tweet.
The response is not particularly surprising as the Algerian army is rarely criticised in public. It has also been in the limelight lately amid calls for it to unseat President Abdelaziz Bouteflika due to his failing health.
Additional reporting by BBC Monitoring