Mummy Murray's pride, Trump trolling and Ukrainian reflections on Euromaidan
Judy Murray looks back as her sons take top positions in the tennis world, the slings and arrows of outrageous lampoon continue for America's future first family and Ukraine reflects on the outcomes of the Euromaidan protests three years ago.
Mother's pride
Aah, there's nothing like a mum posting embarrassing childhood pictures of you on social media. But who can blame Judy Murray after the sterling year her sons have had?
After Andy Murray beat Novak Djokovic to win the ATP World Tour yesterday, she allowed herself a bit of reflection on what it had taken her and her sons to get there, posting pictures of Andy and his brother Jamie, with whom Andy makes up the world's top doubles pair, on her Twitter account.
"The ultimate 'I dragged 'em up properly !'" laughed one user. "Huge Congratulations to you all!"
It's not the first time Mrs Murray has shared a bit of the family's private life online - check out some of her other Twitter posts here.
---
Who's trolling whom?
More than a few people are watching President-elect Donald Trump's Twitter account with bated breath, after a number of celebrities at the American Music Awards last night took swipes at him and his family.
Show host Gigi Hadid trended on Twitter first with her impersonation of Mr Trump's wife, Melania, complete with pursed lips. Her co-host Jay Pharoah matched it with an impersonation of Mr Trump.
Then the band Green Day chanted "No Trump! No KKK! No Fascist USA!" while performing their song Bang Bang.
Many were certain Mr Trump would react:
"I can't wait when Trump tweets that he wants an apology from Green Day and that they are treating him unfairly" was one popular response.
"Tomorrow morning @realDonaldTrump will tweet demanding Gigi Hadid to apologize for the Melania Trump impression," was another.
The anticipation follows Mr Trump's reactions this week to a Saturday Night Live spoof of him and to booing and a cast appeal directed at his vice president-to-be Mike Pence at a performance of the Broadway musical Hamilton.
Others have already taken issue with the AMA spoofs, particularly Ms Hadid's.
"Gigi Hadid is 'anti bullying'", but then turns around and bullies Melania Trump for her accent & face. Classless," said one tweet.
"Not funny to make fun of an Eastern European woman's accent and face. Not a Trump fan, but that's horrible," said another.
Some think Mr Trump's camp may not be displeased by these incidents though as they might distract from other controversies relating to his rise in power.
"Don't be distracted by the Pence/Hamilton non-story. Remember the Trump U settlement, Bannon, Jeff Sessions, his 'blind trust'," said one user.
"Could the Pence Hamilton night have been intentional from Trump camp? Perfect 'culture war' distraction. And Bannon is very smart," said another.
---
Good parenting or extra cost?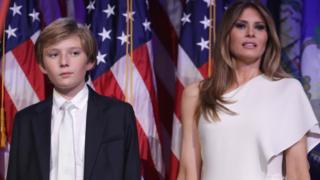 Mrs Trump also sparked another online debate this weekend after it was reported that she and her 10-year-old son Barron would not move into the White House until the end of his school year.
Those protesting against the news took issue with the added cost it would incur to ensure their security in New York.
"Trump should foot [the] bill for [the] added cost of Melania and Barron Trump not moving to White House. But I wouldn't want to live with him either," said one tweet.
Mr Trump's supporters countered this by saying it was an example of good parenting to prioritise the interests of their child.
"Melania and Barron Trump are staying in New York until June so Barron can finish his school year. Sorry that Melania's a good mother," was a typical tweet.
And there were some who objected to the coverage of their child.
"Melania is fair game but the press needs to stop writing stories about Barron Trump - he's 10 - there's no story there, stop it," said one user.
---
The price of the "revolution of dignity"
Many Ukrainians today are reflecting on the Euromaidan protests which took place three years ago and asking if they were worth it.
The protests led to the ousting of the pro-Russian President Viktor Yanukovych. Russia's annexation of Crimea and war in the eastern region of Donbass followed.
Despite this, and despite the continuing evidence of corruption in Ukraine's political system, most social media commentators agree they pushed the country in the right direction.
"Had I known that Moscow troops would seize and annex Crimea right after Maidan, I would not have changed a thing. Had I known that the Russian-Ukrainian war would begin right after Maidan, I would not have changed a thing. Had I known that, I would have acted exactly like I did. Because there is such thing as human dignity," said one popular comment on Facebook.
"Maidan is the most important thing that happened to Ukraine in the years of independence. Not the best thing, but the most important thing," was another.
Some were less sure.
"There are enough reasons to be proud of the country. But too few reasons to be confident in the future and calm in the present," said one Donbass war veteran.
One anti-government blogger felt the protest hadn't changed anything: "You can say general phrases such us 'We have become free', 'You can breathe more freely' and other nonsense. But the point of the revolution was just this - replacing one [expletive] with another and one group of thieves with another group of thieves.
Additional reporting by BBC Monitoring in Kiev