Trump and Starbucks: a tale of two cups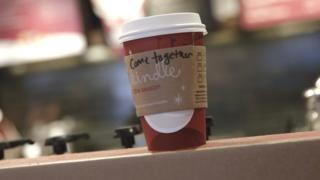 Opponents and supporters of Donald Trump have seized upon two viral videos captured at Starbucks outlets in Florida.
The original 17th Century coffee houses were steeped in politics. But not quite like this.
In the first of two videos that were widely shared online this week, a customer was filmed shouting inside a Starbucks location near the University of Miami. He loudly declared that he voted for Trump and that the baristas are "garbage" and "complete trash" before an angry shouting match ensued.
It later emerged that the dispute started when the regular customer, David Sanguesa, was left waiting for his coffee.
"I had a bad day," Sanguesa told the Miami Herald. He said he had apologised to Starbucks but insisted that he was discriminated against because of his race - Sanguesa is white - and because staff knew that he was a Trump supporter.
The Herald noted that Sanguesa has been arrested several times and that he frequently emailed angry political rants to the newspaper.
A second video which was shot at a different south Florida Starbucks location shows a man ordering a coffee and requesting that "Trump" be written on the cup.
"I already spoke with corporate office," the man is heard saying. "Corporate office said I can have any drink I want with any name I want on it." The employee refuses and says that he's going to call the police.
Bill Scott, the man in the video, told BBC Trending that he is a Starbucks regular who frequently gives different names to his orders, some politically themed and pro-Trump, others referencing current events.
On this particular occasion, he was at a Starbucks location that he doesn't normally frequent, along with his fiance, who posted the video. Staff refused to write "Trump" on the couple's order.
"They started yelling at her and saying Trump is a racist bigot and that nobody wants to write that name," he says. Police arrived and asked him to leave, but he wasn't arrested.
The incident happened the day before the election, but didn't catch fire on social media until it was picked up by several alt-right and pro-Trump blogs and social media accounts Friday - possibly in response to the University of Miami Starbucks story.
The hashtag #TrumpCup became a top trend Friday morning, with supporters of the president-elect urging each other to identify themselves as "Trump" when ordering, as a sort of protest.
Scott says he had contacted Starbucks but hadn't yet received a satisfactory response. He's considering whether he might avoid the coffee chain in the future.
When contacted by Trending, Starbucks declined to comment specifically on the incidents but hinted in a statement that it hopes that the sides of its cups won't be turned into a political battleground.
"Over the years, writing customer names on cups and calling out their names has been a fun ritual in our stores. Rarely has it been abused or taken advantage of. We hope and trust that our customers will continue to honour that tradition.
"We don't require our (employees) to write or call out names," the company said.
Blog by Mike Wendling
Next story: India's mysterious 'unfaithful' woman returns
In the aftermath of the Indian government's decision to remove the 500 and 1000 rupee notes from circulation, the phrase #SonamGuptaBewafa - Sonam Gupta is unfaithful - has been revived on the internet.READ MORE
You can follow BBC Trending on Twitter @BBCtrending, and find us on Facebook. All our stories are at bbc.com/trending.