India's mysterious 'unfaithful' woman returns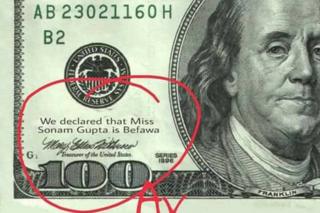 In the aftermath of the Indian government's decision to remove the 500 and 1000 rupee notes from circulation, the phrase #SonamGuptaBewafa - Sonam Gupta is unfaithful - has been revived on the internet.
Earlier this year an image of a 10 rupee note with the words "Sonam Gupta bewafa" written on it went viral.
It is thought to have belonged to a jilted lover who had intended to post the image and redistribute the note as a warning to anyone who should wish to strike up a relationship with her.
The image and its social media presence soon died down, but it has resurfaced with a vengeance in the wake of the government's recent demonetisation policy with tweets and memes trending worldwide.
The government's decision had been aimed at fighting corruption and targeting tax dodgers, but has left many people struggling to exchange their money as both banks and ATM machines have been quickly running out of replacement notes.
People have taken to social media to vent their frustration, and it would appear that they have chosen Sonam Gupta as their target.
Hundreds of tweets and memes have begun circulating and have even started to cross international borders with the likes of Barack Obama being brought into the fray.
The identity of both the original spurned partner and the now infamous Sonam Gupta remain a mystery, with many believing she may not even exist.
However, it hasn't stopped people trying to track her down, with local radio stations running campaigns to find her and local bars and cafes offering free drinks to all those who share her name.
But namesakes are not so excited by this trend, with many receiving unwarranted tweets and messages from strangers and online trolls.
The Mumbai Mirror has since spoken to three such women, who were less than amused.
Sonam Gupta, a 23 year-old student, said that she has received "over 20 calls and more than 50 messages" from people asking: "Are you THE Sonam Gupta?"
Another Sonam Gupta is a feature writer for Femina Hindi, and wrote about how she was initially scared when she saw that her name was trending.
"I wondered if it was a random stalker, or some male friend from my college days or even some guy who I had spoken to or smiled at, at some point in the past.
"Stranger things have happened, I thought. I received so many messages that for a while I actually wondered if I was, in fact, The Sonam Gupta that they were referring to!"
In 1999, the Indian government began its Clean Note Policy, where it urged the general public not to write on or deface bank notes because it would reduce their life span.
Last year a message had begun circulating on social media which claimed that the Reserve Bank of India (RBI) would not accept notes that had been written on.
However, the RBI soon to confirmed on its website that no such step had been taken by the government and that notes with writing on them were still legal tender.
Despite all this, it has clearly not stopped people from breathing new life into #SonamGuptaBewafa and whether she is real or not, the legend of Sonam Gupta looks to continue for some time to come.
Blog by Ben Mitchell