Will this be the most awkward Thanksgiving ever?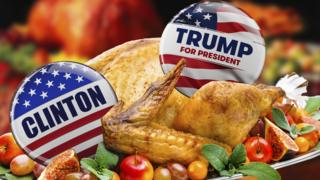 On Thursday, Americans across the US will gather to celebrate Thanksgiving. But with the current political landscape, it looks like this year could see a decidedly frosty feast for some families.
The US presidential election didn't just divide the nation, it split some families right down the middle. And as the country prepares to mark Thanksgiving, thousands of Americans are taking to social media to share feelings of dread and words of advice on how to cope with the fallout.
If this sounds too close for comfort, it might be worth looking at the survival guides that have sprung up online.
"Know your emotions and be prepared to manage them. Be curious: listen with an intent to hear, rather than react," advises hostage negotiator George Kohlrieser in Quartz magazine's feature on how to manage "difficult political conversations with people you love".
He also suggests: "Come equipped with the things you can say to deflect: 'I don't share that view. Pass the potatoes.'"
The New York Times has also drawn up a guide on how to "argue fairly and without rancor".
"And if you do go despite serious apprehension, have an escape plan," advises the Los Angeles Times - arrive "a little late so no one's blocking your car in". Blogger Jennifer Peepas warns that "it's really hard to storm out of an argument if you have to get your uncle who's yelling at you to move their car."
Over on Twitter some are drawing up battle plans.
Others are feeling provocative.
And people from both sides of the political divide are weighing in.
One Twitter user wonders if the whole celebration, which can be traced back to a 1621 harvest feast the Pilgrims shared with Native Americans, could even be called off.
But not everyone is preparing for battle.
Despite living in a politically divided family, Chris Ray Maldonado from Los Angeles isn't dreading sitting down to a roast dinner with his relatives on Thursday.
"My parents were always political opposites. That's how I learned that having a different opinion is OK," Maldonado told BBC Trending.
"At the end of the day, family is family. I feel bad for those who were never taught that disagreements were OK."
Blog by Alex Dackevych
More from BBC Trending: "Kim the Fat"
Speculation over North Korean leader Kim Jong-un's apparent weight gain has been a source of growing fascination in neighbouring China - but some mocking nicknames have been banned from social media. READ MORE
You can follow BBC Trending on Twitter @BBCtrending, and find us on Facebook. All our stories are at bbc.com/trending.