Predicting America's political future, the Indian PM's mother, and the best supermoon fails
Americans take their fight over the presidency to 2017, the 94-year-old mother of the Indian prime minister joins a long bank queue, an email sent to all NHS accounts generates some frustration and mirth, and did you fail to see the supermoon? We have some tips if you missed out.
Arguing over Trump with #HeadlinesFor2017
Are you impatient for 2016 to end? It's been a bit of a roller-coaster hasn't it? In America, both the supporters and detractors of president-elect Donald Trump are continuing to duke out what they think of his coming presidency on Twitter. The hashtag #Headlinesfor2017 is today's battleground.
"ISIS abandons plans to destroy USA since Drumpf is already doing a fine job at it," says a popular tweet. "Liberalism is a Mental Disease... liberals can finally afford health insurance," counters another. "The White House is re-named The Very White House," says a third.
This follows a similar battle earlier this morning over the #StopBannon hashtag, which many used to urge congressmen and senators to oppose Mr Trump's appointment of the controversial right-wing figure of Steve Bannon as his chief strategist.
"A white nationalist antisemite misogynist has no place in the White House. Speak out or it's on you, @SpeakerRyan. #StopBannon," was one typical tweet from the 120,000 or so sent.
Mr Trump's supporters disparaged the attempt to oppose Bannon: "So the party that LOST... Wants to tell the party that WON... WHO they can hire for the positions The party that WON will fill?"
The Indian prime minister's mother lines up
The 94-year-old mother of India's Prime Minister Narendra Modi today joined the many people queuing in India to deposit or exchange cash notes that were withdrawn overnight in November and which made up some 86% of cash in the country.
Her much-reported appearance was touted by Modi supporters as an inspiration and example to those complaining about the difficulty of obtaining cash and having to stand in long queues for banks or ATMs.
"If PM @narendramodi's mother Shri Heeraben Modi can refuse VIP treatment, stand in senior citizen's queue to withdraw money, why can't we?" asked one.
But detractors were scornful, accusing the prime minister of using his mother.
"Two certainties whenever Modi messes up and needs Sympathy 1. Cries from stage about his 'Sacrifice' 2. Uses his mother for Photo Op," said one user.
Others said her having to change the notes only emphasised the undesirability of his policy.
"If a mother Heeraben Modi aged 94 years has to visit bank to exchange silly amount her sons & daughters should ashamed of themselves," said one comment.
---
#NHSMail fail raises a smile or 1.2m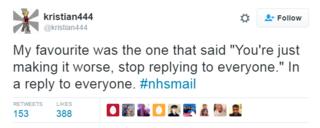 People are still chuckling about the email fail the NHS experienced yesterday, when inboxes filled up with a test message that was accidentally sent to every staff member.
Despite the gnashing of teeth that ensued, there has been some sympathy for a Roslyn Learmond, whose name was on the email.
"A spokeswoman has declined to identify the culprit... 1.2 million people know it was Roslyn," laughed one user.
"Tomorrow Roslyn Learmond will send an apology email to all 1.2 million users which will be followed by 100k+ reply alls saying no worries!" joked another.
But Roslyn might not be the guilty party. "I'd just like to point out that although Roslyn's signature was used it was Jeff who sent the e-mail as a #test #nhsmail #saveroslyn," said one tweet.
On the whole though many shrugged off the mistake good naturedly.
"I hope Roslyn can see the funny side of this... She seems to have done more for staff moral in one (or two?) emails than [Health Secretary Jeremy] Hunt in yrs #nhsmail," said one user.
"I think the general consensus this evening is.... *A hug for Roslyn* You've given many a MUCH better day!" said another.
---
It's a wrap!
Not everyone was lucky enough to spot the supermoon in the sky last night much less take an amazing picture of it. But there were those who tried and we salute your ingenuity and perseverance!
Don't forget to send us your attempts at supermoon photography: yourpics@bbc.co
---