Strange lights, looking for change in India and Steve Bannon
Today people are debating what caused strange lights in the sky during New Zealand's earthquake; an Egyptian food seller becomes an icon; some Indians want to change their prime minister as well as their cash; and Donald Trump's appointment of a controversial figure as his chief strategist alarms many.
Strange lights over New Zealand
Videos of unexplained lights in the sky during the earthquake that hit New Zealand yesterday are being viewed hundreds of thousands of times on social media and generating much excited debate about what might have caused them.
Some are saying the flashes of green, blue and yellow light captured on camera from Wellington and Napier Port may be evidence of "earthquake lights".
People have observed similar lights during other major quakes round the world and there have been various explanations for them over the years. One rationale by some geologists is that the lights are caused by electrical charges released by rocks that are put under stress.
Comments on the videos range from awe to scorn, with sceptics saying it is merely lightning or reflected light from exploding power lines.
The Egyptian woman "worth a million men"
A 40-year-old Egyptian woman, Mona Al Sayyed, who sells food from a heavily laden cart she pulls herself has caught the attention and sympathy of the Egyptian public and its president, and is now being touted as an example of perseverance and hard work amid the country's economic hardships.
An image of the thin Ms Al Sayyed pulling on her cart was first circulated in thousands of tweets with with hashtags like #The_Cart_Woman and #The_Tricycle_Woman.
Many hailed her for her work ethic. "She is a girl from my country who worth million men," one user tweeted.
She became the object of greater attention when President Abdul Fattah Al-Sisi invited her to meet him. He went on to promise to give her a fully-furnished flat, pick-up truck, and suggested that she be helped to learn to drive.
Several of his supporters hailed his actions online: "A president who has prophets' ethics," said one tweet. The hashtag #Sisi_is_the_supporter_of_the_poor has also been tweeted thousands of times.
But not everyone is impressed.
Several users have accused him of using Ms Al Sayyed to shore up his popularity, given the increasingly difficult economic conditions for many following the government's decision to float its currency and remove fuel and subsidies.
---
#Change_The_PM_Not_The_Notes tweet Indians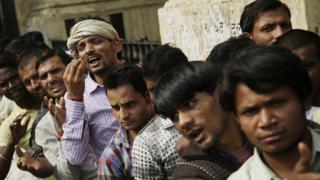 The Indian government's decision to withdraw high denomination notes with very little notice has led to long queues outside banks and a shortage of cash - frustrated Indians have taken to Twitter to vent.
The hashtag #Change_The_PM_Not_The_Notes trended today with almost 14,000 tweets after Prime Minister Narendra Modi pleaded for 50 days to sort out the problem of corruption and black money that the move was supposed to address. It follows #Public_Suffers_Corrupt_Carefree which was tweeted almost 60,000 times over the weekend.
"This Cruel PM making fun of Poor People," said one popular tweet. "Modi asked for 50 days but how will people survive for 50 days?" asked another.
Modi does have his supporters who urged people to think of the bigger picture. "You say you want 'change'. But you can't stand in a queue a little for the 'change'" tweeted one account.
People are also using hashtags like #WorkingATMs, #ATMsWithCash, and #ATMsNearYou to share information about working cash machines with shorter waiting times.
Which is a good thing because, at the moment, "finding a #WorkingATM is Indian version of #PokemonGO", says one tweet.
---
Right-wing views on the rise?
Donald Trump's appointment of Steve Bannon, the chair of combative conservative website Breitbart, as his strategist has been met with outrage online, with many saying the move "normalised" extremist views. More than 230,000 tweets have been sent mentioning Bannon since his appointment.
"The hiring of Steve Bannon as a WH policy adviser is exactly the same as hiring [Ku Klux Klan leader] David Duke. Please don't normalize this," said the most popular tweet in response.
"The media organizations that refuse to report on Steve Bannon's white nationalist ties shouldn't be read, viewed, or trusted anymore," said another.
Bannon's supporters shrugged off the criticism.
"Just revel in it. They have NO idea just how smart and effective Steve Bannon is," said one. "I can't wait until Breitbart & Infowars are in the White House press corps and @WashingtonPost and @CNN are sent packing," added another.
---
Additional reporting by BBC Monitoring