Holding Facebook and Twitter to account and why "Kim the fat" is not being mentioned in China
Facebook and Twitter are pressed to do something about hate speech and fake news, "Kim the fat" is being removed from online mentions in China, and countries around the world mark the armistice
Who's responsible for news on social media?
Care about what you read online? So do many media editors and writers, who are continuing to press the heads of Facebook and Twitter to deal with hate speech and fake stories on their platforms, following America's divisive election campaign.
Mark Zuckerberg, Facebook's CEO, said this week that the notion that fake news on Facebook influenced the election "is a pretty crazy idea". Twitter's CEO Jack Dorsey has tweeted only rather indirectly on the issue, saying: "I commit to using the privilege I currently have to always speak this truth to power, and to ensure the common good leads everything we do".
Both positions have received short shrift.
"I don't need you to be uplifting, @jack, I need you to build some... anti-hate-mob features," said the most popular tweet in response.
"How about you fix your platform so hate groups don't organize there. Basic features would allow users to protect themselves," said another, by Clara Jeffery. the editor of the independent news site Mother Jones.
Those addressing Zuckerberg voiced similar scepticism that the platform had no role to play.
"What a denial of responsibility. If this were true, and Facebook had no influence, it would not be a $400b company," said academic and New York Times contributor Zeynep Tufekci.
"Facebook is now in the awkward position of having to explain why they think they drive purchase decisions but not voting decisions," said an editor at The Verge, Casey Newton.
---
'Kim the fat' goes missing in China
Don't worry, North Korea's leader Kim Jong-un hasn't gone anywhere.
"Kim the fat", a nickname some Chinese social media users have given him, is just being extensively removed from Chinese social networks.
Nicknames like this are one of the ways people get around censors in China.
While it has been filtered out of some sites before, it is now one of the most censored phrases on the country's equivalent of Twitter, Sina Weibo, according to a censorship-monitoring website Free Weibo.
Searches for it on Weibo and the leading search engine, Baidu, return no results.
The nickname was used widely in January, after the North carried out nuclear tests which were widely criticised online and by the Chinese government.
Official media have warned against ridiculing North Korea and urged people to show "respect for the leaders of neighbouring countries". But the censorship so far has only led to angry comments and ever-more creative wordplay on Kim's name.
---
Death shall have no dominion
It's not just Britain but many around the world who are marking Remembrance Day today.
French senator Joelle Garriaud-Maylam posted an image of poppies and cornflowers "to symbolize the mixed blood and the sacrifice of the soldiers who died for our freedoms". "Forget Trump for two seconds, return to France and remember that today is the armistice," said another French tweet.
Museums have showcased some fascinating items from their collections to mark the day.
In New Zealand, the national Te Papa museum posted a picture of a 1916 doll made from a chicken wishbone and fabric scraps - a way one woman remembered her fiance. The Australian History Museum has a drawing of a dugout at Somme from a diary kept by a Private McGregor and the UK's Colchester Museum featured a box of dominoes made by French prisoners during the Napoleonic war.
Allies in the animal kingdom have been remembered as well:
---
Is this the 'American Spring'?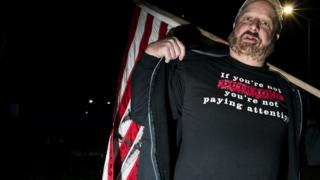 Twitter users in the Middle East having been drawing parallels between demonstrations taking place across the US following Donald Trump's election win and the Arab Spring - a series of uprisings in the Middle East that began in 2011.
The hashtag #protests_sweep_America has been used almost 45,000 times today, with many opining America was having a taste of some of the destruction it had wreaked in the region.
"And the American Spring has begun..!! Oh God, make them drink from the same cup," said one user.
"You destroyed Muslim countries and here you are destroying yourselves," tweeted another.
A third posted a picture of a police car with smashed windows and asked sarcastically: "Where are the so-called human rights? Where's the freedom?"
---
Looking 'like two kids'
The first meeting between US President Barack Obama and his soon-to-be successor Donald Trump has been minutely scrutinised on social media and not without some mirth.
People have used different pictures from the much-photographed press conference afterward to project their interpretations of how each was feeling.
To some, a second when Trump smiled and Obama looked sombre, it was "that look when you realize you're sitting at a table without leverage". Others thought Obama's frowning face "is all of America right now".
But by far the most popular interpretation was that: "Obama and Trump both look like two kids who's [sic] mothers forced them to apologize to each other."
If you want a better idea of how they behaved throughout the press conference though, and how misleading a single photograph can be, watch the whole video here.
---
Additional reporting by BBC Monitoring