Trump triumph: Protest, crying children and fake responses
The story dominating social media today is, of course, the victory of Donald Trump as America's president-elect, with hundreds of thousands around the world discussing the results on Twitter and Facebook
Trump supporters triumphant
Author J.K. Rowling summed up the hopes many invested in America's #ElectionNight when she tweeted: "One way or another, history will surely be made tonight. Let it be the good kind. Please, please let it be the good kind."
As it became clear the country's new president would be Donald Trump, his supporters were triumphant.
"We Won... This is what Winning looks like. The Trump Train all the way to the White House. Don't get it twisted!" said one popular account.
"The good guys won tonight," another said jubilantly.
---
Denial and protest
Not everybody felt the same way of course. Many have protested against the result, the tone of the most popular posts despairing and angry.
"This is so so sad. I'm crying. everything we have achieved for women's rights, gender equality, and gay rights, over," said one popular tweet.
Some turned their profile pictures black and hashtags like #AmericaIsOverParty, #TwitterBlackout, #StillWithHer, #NotMyPresident and #RIPAmerica trended on Twitter, with more than half a million tweets sent with them.
---
Fake tweets against Trump
Some of the most popular images being circulated to lash out at Mr Trump were fake though.
One, posted by a purported freelance sports reporter "Simon Rowntree" from the account @SRowntreeNews, claimed that thousands at a Trump rally in New York were chanting against Muslims and black people.
But the persona "Simon Rowntree" and the account's profile picture is one that has been used before - also as a fake source of news.
Earlier this year, an account under the same name claimed to be a reporter for the Forest Echo News and purported to have witnessed anti-Russian behaviour from English fans at Euro 2016 football matches in France.
The Russian news site Meduza and the Guardian have reported on how Russian news outlets then used the account's tweets as the basis for false reports.
Another popular image being retweeted thousands of times each by different accounts is a screenshot of a tweet supposedly sent by Mr Trump in 2011, saying "But most Americans are ... idiots anyway".
It is easily debunked because the supposed tweet features the ability to "heart" it - a feature that Twitter rolled out only in November 2015. Before that, the heart would have been a star.
---
What do you tell the children?
It's not just adults who have been paying attention to this election - think of the children!
Speaking on TV last night, CNN political commentator Van Jones struck a chord with Hillary Clinton supporters in an emotional response to the result, which has been tweeted more than 260,000 times and has more than 100,000 people talking about it on Facebook.
"It's hard to be a parent tonight for a lot of us. You tell your kids don't be a bully. You tell your kids don't be a bigot... and then you have this outcome. And you have people putting children to bed tonight and they are afraid of breakfast. They're afraid of how do I explain this to my children," he said.
A single tweet of him saying this was retweeted more than 144,000 times.
"If you wanna cry watch Van Jones give the first cognizant minority understanding of the election on CNN tonight. He just made it real," said one commentator in response.
"I monitor my 12-year-old daughter's social media. She is Latina and attends a largely Latino school. The posts tonight are full of fear. True, unadulterated fear. 12-year-old Americans fearful in their own country. Take that in for a second," said a post on Facebook.
Hillary Clinton's campaign made much of the issue of equality and the treatment of women by her opponent Donald Trump.
At the Jacob Javits Center in New York, where she would have spoken if she won, there were "forlorn-looking mothers and daughters", USA Today reporter Heidi Przybyla said.
"Little girl sobbing comforted by mother. Scene from @HillaryClinton event. 2 hours ago she said she cd b POTUS too", she tweeted.
People were sympathetic - to a point. "This little girl can still be president someday. Her name isn't @HillaryClinton", said one response.
---
Lessons from Brexit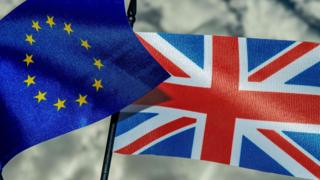 Many have compared the result to Brexit, the UK's decision to leave the European Union.
"BRITAIN: Brexit is the stupidest, most self-destructive act a country could undertake. USA: Hold my beer," went one joke.
Others have been taking it more seriously, not least one of Brexit's most prominent supporters, Nigel Farage, who tweeted this morning: "I hand over the mantle to @RealDonaldTrump! Many congratulations. You have fought a brave campaign."
Many feel there are lessons to be learned from the two events:
"The Brexit vote, fueled by anti-immigration rhetoric, was followed by violence against minorities. Be careful. Stand up for your neighbors," said one user.
"Brexit and Trump have shown that too many pundits and media people live in a London, New York and LA myopic bubble," said author Irvine Welsh.
"A similarity between Trump and Brexit is that the media and political elite cannot believe a reasonable person can vote for Trump or Brexit," said former Conservative party treasurer Lord Ashcroft.
---
Views from around the world
Mr Trump's win has resonated elsewhere around the world.
In France, some are sharing pictures of the Statue of Liberty along with a little request: "Sorry, just one last little thing. We would like to get the Statue of Liberty back," says one cheeky tweet.
The story is being talked about so much on Sina Weibo, China's equivalent of Twitter, that some are joking it is the first time everyone in China is taking part in politics.
In Russia there is similar sentiment around #RussiaChoosesTrump, a hashtag that started with people voicing their support for Mr Trump but then got hijacked by some to complain about their own country's politics instead.
"Russians do not choose anyone in their country but they do in a foreign one!" was one wry comment.
And a German man living in the US, whose tweet warning Americans against Mr Trump last week was circulated widely, posted tongue-in-cheek: "I hear the Canadian immigration server is down. If you're considering Germany, please pack a sweater. My folks tell me it's already snowing."
Additional reporting by BBC Monitoring