Home wrecker penguin has web in a flap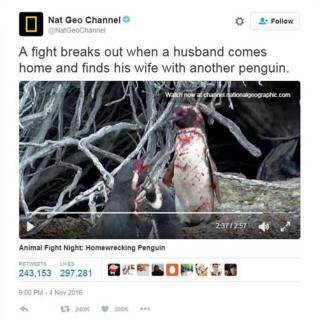 If Jerry Springer did a show about wildlife then one particular love triangle might keep the on-set security very busy.
A National Geographic video of a bloody fight between two male penguins has become a Twitter phenomenon, and numerous penguin parody accounts have been hatched to keep the story going.
The violent clip shows a male penguin returning home to find his mate with another penguin. As the clip's narrator explains: "He flips out, his strategy is simple - batter the home wrecker until he flees."
A vicious fight ensues, with the two male birds trading wing blows and attacking each other with their beaks as the unfaithful female looks on. Much penguin blood is spilled on the beach.
"They use them [their wings] like baseball bats to club each other, delivering up to eight blows a second," the voiceover says.
After a frenzied battle in and out of the burrow, the bloodied husband appears to make a final plea to his wife.
"But she's got no time for losers. Defeated and humiliated he's left out in the cold," the narrator explains.
The video has taken Twitter by storm, and has been retweeted more than 240,000 times, and liked almost 300,000 times.
Many Twitter users have reacted with horror to the violence meted out by the penguins in the clip, and with tongue-in-cheek sadness.
Others have responded with disbelief and humour.
"Not even ONE statement by political parties on what happened to Mr Penguin. SMH our politicians are so out of touch with real issues," tweeted @RonaldPhiri01.
And numerous dedicated Twitter accounts for all of the story's penguin protagonists (and quite a few subsidiary characters) have sprung up on the social networking site, attracting thousands of followers and continuing the penguin melodrama's narrative. @wifepenguin's account has amassed some 12,500 followers.
The Twitter penguin drama continues to unfold. As @KomalCK tweets, "This penguin family crisis is more dramatic than "Keeping up with Kardashians". I need a day to bing-read all of their tweets."
Next story: The rise and rise of fake news
How has social media helped turn made up news into an industry and what can be done about it?READ MORE.
You can follow BBC Trending on Twitter @BBCtrending, and find us on Facebook. All our stories are at bbc.com/trending.