A message for America, a student's John Lewis ad passes for real, and the stressful lives of animals
Stories buzzing on social media today include: One German looking to history with a message for Americans; Twitter responds to news that Donald Trump is no longer allowed on it unsupervised; a student's A level course work passes for a real John Lewis ad; and the emotional ravages of cute animals under pressure
A message for America
As the US chooses between Hillary Clinton and Donald Trump in their presidential election tomorrow, one German man tried to draw parallels with history this weekend:
"Now There's a Mic drop from Germany worth spreading across the world right now!" tweeted author Mikey Walsh.
Many of the 22,000 or so people tweeting #BeenThereDoneThat agreed with him. Some used the comparison to reflect on their own leaders.
"Go ahead and vote for a self-absorbed totalitarian... Why should we enjoy 'Achhe Din' [good days] alone?" tweeted one satirical account from India, adding: "#Schadenfreude". "Like voting for Abbott because you hate Julia Gillard. Vote in hate, repent at leisure," tweeted one Australian.
Not everyone agreed with the message of course. "Yeah, yeah, I know, I know; Trump is Hitler. Cripes, that gag's been beat to death since at least January," said one response. "Interesting that you have appointed yourself as the spokesperson of the German people," said another.
"Johan Franklin", a pseudonym for a man who says he is a German living in San Diego, later followed his message with a longer one, explaining that yes, he knew the comparison to Hitler was "a bit of an exaggerated cliche" but, he said, "whenever I travelled outside Germany in the past, I've often been asked how the German people could have fallen for Hitler ... I don't get that question much lately."
---
No Twitter for Trump
Any other time, Donald Trump, who's active on Twitter, to say the least, would probably respond to "Johan Franklin" himself.
But a New York Times article saying his team have taken away his ability to tweet, forcing him to dictate anything he wants to post on his account, means he is less likely to. It has also made him the butt of jokes on the platform.
"'Trump aides revoke his access to Twitter.' His closest advisors don't trust him to tweet, but 40% of voters want him in charge of nukes," said one popular response.
"Is it too late to give the gymnastics gold medal to people who think Trump can't be trusted w/Twitter but should be trusted w/the country?" asked another user.
Trump supporters are turning the spotlight back on Hillary Clinton's use of a private server for emails though, arguing it is a more serious issue.
"Please Hillary can't manage an email account so that must mean she's also disqualified," said one popular comment on Facebook.
"If someone can't handle classified information, they can't handle nuclear codes!" said another.
---
Passing for real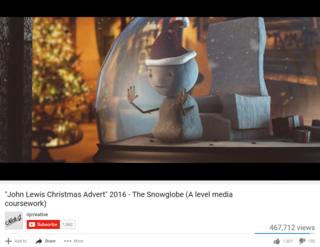 An A-level student has created a John Lewis advertisement as part of his media course work and he's done it so well, down to the stripped-down acoustic tune and tugs on the heartstrings, that people are urging the company to pay him and use it for real.
Nick Jablonka said he wrote an essay about the company's successful marketing campaign and the video was his attempt to create an advertisement in the same style. "As far as I remember I think it got full marks."
The video has been viewed more than 470,000 times since it was uploaded. Jablonka said it took him two weeks to make - not bad when you consider John Lewis's ad last year was said to cost about £1m.
"That's actually even better than a lot of John Lewis' own ads. Well done that man!" was one comment on the video.
"An awful lot of care and attention to detail have gone into this video. Bravo. Let's hope they use this 'officially'!" was another.
---
The stressed lives of animals
An unexpectedly vicious fight between two male penguins from National Geographic sent stress levels soaring for the hundreds of thousands who watched the short video on Twitter this weekend. It's been retweeted and liked more than 200,000 times each.
In it, a male penguin comes home to find his nest occupied by an interloper. The bloody fight that ensues, and the female choosing the interloper in the end, broke hearts all round.
"The most savage part of that penguin video was when the guy narrating said: 'She has no time for losers.' Like, wow, who's the real animal?" joked another user.
Before you rush to judgement though, make sure you read all sides of the story from the spoof accounts that have sprung up in response:
And though it ill-behooves us to blow our own trumpet, we're proud to say #PlanetEarth2 trended on both Twitter and Facebook last night as well, with tens of thousands talking about it on each platform.
A particular favourite was a tense segment on baby iguanas and racer snakes.
"I thought A-Levels were bad, at least I didn't have to outrun a pack of Racer Snakes the day I was born," said one user. "Anyone else shouting "GO GO GO" at the iguanas?" asked another.
---