No regrets for fan with victory tattoo of World Series losers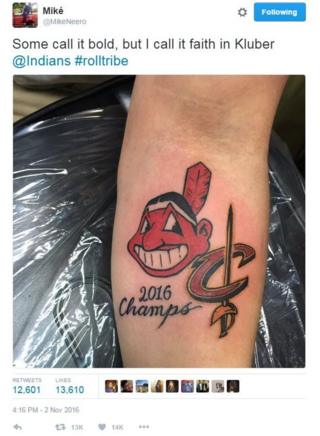 Sports fans, they're an incurably, eternally hopeful lot, aren't they? Some of them even have the body ink to prove it.
Most actually wait until their team has won, however, to go out and get that celebratory tattoo, but one baseball fan didn't - for deeply personal reasons.
Mike Nero, 19, tweeted a picture of a tattoo he got three hours before his beloved team, the Cleveland Indians, attempted to finally reclaim the sport's biggest prize, the World Series, after a 66-year wait.
"Some call it bold, but I call it faith in [Indians star pitcher Corey] Kluber," he tweeted. before his side's deciding, win-or-bust showdown with the even longer-suffering Chicago Cubs.
Unfortunately for him, the Cubs produced an historic performance to win 8-7 and end a 108-year barren spell - the longest title drought in the sport.
And the player in which he had put all his faith, the previously reliable Kluber, hit poor form at just the wrong time, conceding four precious runs.
But, after his tweet became a huge social media hit - with more than 16,000 retweets and more than 19,000 likes, to date - the Ohio native has revealed he had his own deeply personal reasons for doing it.
"I'm pretty bummed out - about the Indians losing," he told BBC Trending. "I could care less about the tattoo.
"I got it three hours before the game, for my brother, who passed away a couple of years ago.
"We were real close and were always doing outrageous stuff, like a competition, to out-do each other. I feel like now I got him back.
"You win some, you lose some. I'll use this as a reminder to stop doing dumb things. We'll be back next year, so I'll just change the last number then."
Mike says he has other tattoos - including another one for his late brother, a cross. He has no plans to get this one removed.
"My friends love it," he said. "One of them tried to talk me out of it, but I didn't listen.
"My parents are pretty upset, mainly because it cost me $150 and I'm pretty broke right now."
Some might sympathise with him, considering his team was 3-1 up in the best-of-seven series at one stage and the fact that their opponents were battling to overcome a 71-year curse, placed on the team by local bar owner Billy Sianis.
Mike had good reason to feel Cleveland's crushing disappointment even more than his fellow fans, tweeting his vanquished team - and Kluber - directly: "You guys owe me, big time."
"I still believe in the Indians," he said. "We had such a good season. Maybe they'll pay for the tattoo. I'm still waiting to hear back from them."
The tweet also received hundreds of replies featuring - perhaps predictably - a mix of ridicule, sympathy and a variety of memes, a selection of which he sportingly retweeted.
BBC Trending confirmed the tattoo was inked on Wednesday, before the deciding game, with the shop where it was carried out.
"We try to give people some counselling on stuff like this before they do it," James Kisor, owner of Decorative Injections tattoo parlour in Athens, Ohio said.
"Our tattooist asked him if he was sure, but he said he was, so we did it. We've done some quick decision sports tattoos before. Sometimes people will get one done because they lost a bet. But nothing like this."
The tweet also reignited a longstanding debate over the Cleveland Indians' name and its appropriation of indigenous culture - an issue that was recently brought to the fore once again, when some Canadian fans refused to use the side's full name. It followed the Toronto Blue Jays being drawn against them in the previous round of games, the American League Championship Series.
The National Congress of American Indians has repeatedly called on US sports teams to stop using Native-American stereotypes as mascots or slurs in their branding.
But Mike, who is "quarter native American" says he didn't want to enter into a debate on that topic with some of the respondents.
A number of Cubs fans also got inked during the thrilling see-saw World Series - about two dozen according to one report. Crucially, they held off, however, on any adding any victorious messages or the date to any tattoos.
Some now victorious Chicagoans may well be on their way back to their tattoo parlours to add the memorable date it, as we speak.
Mike can take some comfort from the fact that it's not quite the first time this has happened to a devoted or over-optimistic sports fan.
One Newcastle United football supporter last month optimistically tattooed "NUFC [the team's initials], EFL Cup winners 2016" on his backside, after the English second-tier side reached the quarter-finals of the league cup, according to The Sun.
With potential ties ahead and the final to be held in February next year, the tabloid pointed out that the fan was not just hopeful, but got his dates wrong too.
Another English football fan jumped the gun on his club, Manchester City, signing Brazilian star Kaka in 2009, getting a premature tattoo of the player's name emblazoned on his chest, according to the Daily Mail.
Blog by Stephen Fottrell.
Next Story: The Australian teen suing over mullet memes
Find out what's buzzing in the social media world today. READ MORE
You can follow BBC Trending on Twitter @BBCtrending, and find us on Facebook. All our stories are at bbc.com/trending.