Iraqi unity, Facebook peace talk, fake live videos and the Mormon mafia
Today on social media we are looking at an attempt to unite Iraqis with a hashtag, using Facebook as a safe space, asking why some Facebook pages are running fake live videos from space, and being careful not to upset the #MormonMafia.
Can Mosul get behind #One_Hastag_ForIraq?
Iraqi forces fighting to take control of the city of Mosul from the so-called Islamic State are urging people to rally behind a single, symbolic hashtag to show their solidarity with the government forces fighting there: #One_Hashtag_ForIraq.
Launched late yesterday, the hashtag has been tweeted already been more than 17,500 times. The Iraqi air force and army accounts being among the first.
"Unifying efforts at this time is very important. Let's be one, and tweet together so that terrorism will not have any rumour, and its media any lies, to spread," said the army.
The nationalist hashtag is likely to be trying to address sectarian fears that minority Sunnis in the city could be attacked by the Shia-dominated forces after they regain control of Mosul.
Such accusations were made after the Iraqi army retook other Sunni cities like Falluja and Ramadi and it is telling, perhaps, that a hashtag such as #SaveMosulFromThePMF [the Shia Popular Mobilisation Forces] was tweeted much more frequently (76,000 times) as this campaign began.
Additional reporting by BBC Monitoring
---
Can Facebook be a safe space for peace?
Exasperated with hate groups on social media, an Egyptian and an Israeli have created a Facebook group called Talking Peace, which is trying to counter the prejudices feeding Arab-Israeli antipathy.
The page, created by Amr Zakareya and Yoni Levin, has been running since 2012. It has a limited following of about 1,700 users but has, at least, remained free of trolls and hate-mongering.
In a lively mix of Arabic, Hebrew and English, members exchange views on posts dealing with everything from peace talks and occupation to holiday celebrations.
"Egypt signed a peace treaty with Israel in the 70s so, practically, it is not our enemy. We have to be more familiar with their life, culture and history," Zakareya told the BBC. "Dealing with Israelis on various levels is not a betrayal of the Palestinian cause."
"Unfortunately, there is still a lot of suspicion and hate, so this is a very difficult task," Levin said. Realistically, it will take several decades for psychological barriers to totally disappear."
Additional reporting by BBC Monitoring
---
Why are Facebook pages faking live videos?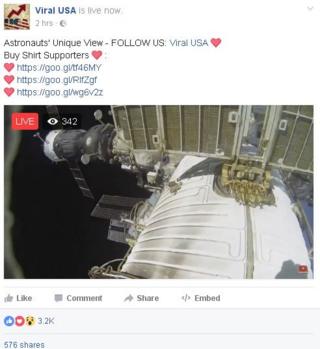 The International Space Station (ISS) and the astronauts on it have become quite the social media stars.
Commander Chris Hadfield singing Space Oddity, for example has been watched 33 million times on YouTube alone.
And live feeds from the ISS are always popular - especially on Facebook, which believes the future of social engagement is video.
But on Wednesday, some sharp-eyed folk spotted that a supposed live feed from one of the biggest video publishers online, Unilad, was not live at all - you can read about our investigations into this here.
Unilad, which has some 20 million followers worldwide, said they wanted to "test the capabilities" of the live broadcast feature.
Another page that did the same yesterday, Viral USA, is showing a loop of an old space walk, as a live feed today.
Why are Unilad and Viral USA doing this? One answer seems quite obvious - their videos yesterday were viewed 19 million and 315,000 times respectively. But we've asked them to speak for themselves and will let you know when they get back to us.
In the meantime if you want to know when real live video from space is on, NASA's live TV schedule is available or you can watch a constant live stream from the ISS here.
---
Why are Americans warning you about the #MormonMafia?
You haven't forgotten about the US presidential election have you?
It's been relatively quiet on social media since the last TV debate but a Fox TV host's outburst on Twitter spawned a trending #MormonMafia hashtag today.
America's Mormons are family-focused, believe in hard work and eschew alcohol and drugs - even coffee - on account of them being addictive.
They have their headquarters in Utah, a state that has voted Republican since 1964.
Recent polls show, however, that Utah's estimation of the Republican candidate Donald Trump has dropped so much, a little-known local man, Evan McMullin, who is running as an independent, may actually beat him there.
Cue Fox's Lou Dobbs: "He's nothing but a Globalist, Romney and Mormon Mafia Tool."
Cue almost 11,000 tweets of #MormonMafia this morning, poking gentle family fun at Mr Dobbs's overreaction to all that clean-living.
"You're gonna sleep with the fishes. The only spare bedroom we have left has an aquarium in it. Hope that's not a problem," tweeted one account.
"Just try to tell a member of the #MormonMafia that you're not interested in family board game night. See what happens," joked another.
Take heed, Mr Dobbs: "Gosh darn it, you messed with the wrong fellows this time, you nincompoop!"