'Vote online' hoax started life on pro-Trump message board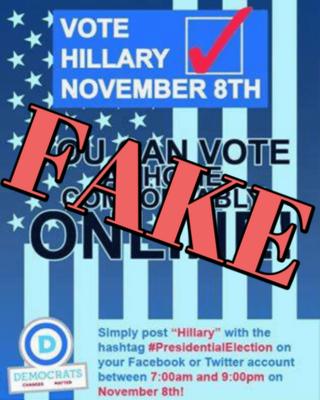 A hoax image designed to trick people into thinking they can "vote at home comfortably online" using their social media accounts emerged from a message board that's a bastion of hard-core Donald Trump supporters.
At a quick and casual first glance, the image looks like it could be authentic campaign material. But at the bottom of the picture there's this suggestion for casting a ballot: "Simply post 'Hillary' with the hashtag #PresidentialElection on your Facebook or Twitter account between 7:00am and 9:00pm on November 8th!"
The faked poster recently caused a kerfuffle in Pennsylvania, where a local Republican Party politician was criticised after he posted it on Facebook. Echoing recent comments by Donald Trump, Joshua Lorenz wrote: "More proof that the election process is rigged. Only Hillary supporters can vote from their smartphones or in the comfort of their own homes."
Lorenz says he was joking and deleted the post after being called out by Philadelphia-based news outlet BillyPenn.com. But Pennsylvania officials were alarmed enough to warn voters via Twitter about the hoax and at least one other similar meme making the rounds online.
In interviews Lorenz said he doesn't know who made the image - so where did it originally come from?
Reverse image searches indicate it surfaced in July in a thread on Reddit, r/The_Donald - a bastion of those hard-core Trump supporters known as the alt-right.
The thread credited image board 4chan for its creation and users gleefully celebrated the havoc they thought it would cause by tricking voters into thinking they could vote with their Twitter or Facebook accounts.
"This is amazing. We need to legit make this work come Nov 8th," one wrote. "This will totally work on millennials," wrote another. "The key is not to hype it too hard or [mainstream media] will pick up on it. Keep it on the sly, then really pump it up right before the election."
Another chipped in: "Make sure people on our side don't fall for this trick."
Not everyone was in on the joke however: "I thought this picture was a legit thing the Democrats were trying to do," one user commented.
Online voting via email (not Twitter or Facebook!) is available to a small number of Americans, mostly military personnel based overseas. Absentee ballots are usually accepted by post or in person, and then there's the option most voters will take: actually showing up at a polling place on Election Day.
Blog by Mike Wendling
Next story: Why are people riffing on a short story from 1848?
If you think that the sort of things that trend online are entirely predictable, think again. A curious phenomenon has emerged with people circulating memes based on Edgar Allan Poe's "The Cask of Amontillado".READ NOW
Read more US election coverage from BBC Trending: Trump's 'Bad Hombres' quip inspires mucho mocking memes
A solitary Spanish word uttered by Donald Trump during Wednesday's debate prompted an online storm of outrage.READ MORE
You can follow BBC Trending on Twitter @BBCtrending, and find us on Facebook. All our stories are at bbc.com/trending.