Today: Book nerds bite back and meet the service dog who moved us to tears
Books translated into Trump-speak are making many laugh on Twitter; a picture of an autistic five-year-old meeting his service dog for the first time (and his mum's reaction) is moving thousands on Facebook; Chinese social media users are arguing for more zombies for Halloween; and some Russians want the BBC banned following the closure of a Russian TV network's bank accounts in the UK.
---
First up... revenge of the book nerds
I got memes, the best memes! The last debate between Hillary Clinton and Donald Trump has generated a slew: women who are embracing Mr Trump's calling her "a nasty woman" and those mocking his use of the phrase "bad hombres".
But the funniest has to be #TrumpBookReport. Anti-Trump bibliophiles are using the hashtag to skewer his policies and make fun of the way he speaks. More than 40,000 tweets of the hashtag have been sent in the last 12 hours.
The trend appears to have kicked off in response to a tweet from Antonio French in St Louis, Missouri. "Trump's foreign policy answers sound like a book report from a teenager who hasn't read the book. 'Oh, the grapes! They had so much wrath!'" he joked.
And thousands of people piled in:
"Narnia? Disaster. Very open borders in that wardrobe which is Hillary's fault. Many many people pass through illegally. "
"Look, I don't know Voldemort. He said nice things about me. If we got along with the Death Eaters, wouldn't be so bad."
"Lolita. Beautiful woman. Phenomenal woman. In ten years, I'll be dating her. That Humbert Humbert guy. So low-energy. Sad!"
"Uncle Tom's Cabin, worst cabin in the inner city. Terrible schools. Nasty women & bad hombres everywhere."
"Juliet. Such a nasty woman. She made Romeo kill himself. And believe me he could have done better. Look at her."
Some Trump supporters used the hashtag as well, but mainly to score points against Hillary rather than joining in the game.
---
Holding back tears
A picture of a young autistic boy laying his head on a dog as his mother cries silently behind them, has touched thousands on Facebook.
Five-year-old Kainoa Niehaus travelled to the 4 Paws For Ability centre in Ohio from Japan after two years of waiting for an animal to become available.
4 Paws For Ability, quotes Kainoa's mum in their Facebook post, here she describes just what it means to her to have a service pet in the family:
"This picture captures the face of a mother who saw her child, who she can't hug, wash, dress, snuggle and touch freely lay on his new service dog of his own free will, with a purposeful unspoken attachment.
"This is the face of a mom who has seen her son experience countless failed social interactions on the playground in an attempt to have a friend. Any friend. Any kind of connection. She has sat with her son while he has cried at night for months because he has no consistent connections outside of the family no matter how hard he tries and no matter what he works hard on in his Autism therapies...
"And now she is sitting behind her son silently watching this moment, with the air sucked from her lungs, and no words to say...
"I have cried so many times for this boy, but this is the very first time I have cried for a reason like this."
The post on the Facebook has been shared hundreds of thousands of times, with many posting pictures of how their own dogs have helped their families.
---
Chinese city fights zombies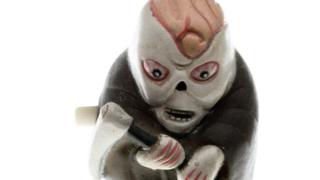 It's still more than a week to go to Halloween but zombies - alright, people dressed as zombies - have already been spotted in the city of Chengdu this week. This has prompted a warning from the authorities that they are not welcome. "Passengers are not only frightened, but it damages the city's image," local media said.
Other major cities in China, such as Beijing and Guangzhou, last year warned that people dressing up in costume and travelling on the subways could be arrested and revellers were urged to avoid transport systems in case they spooked other passengers.
In Chengdu, this news has sparked a debate on whether such a ban should be imposed. Thousands of people are discussing the topic on Sina Weibo, China's equivalent of Twitter. Many are defiant, saying it's "good fun". Others cautioned that such costumes can scare children.
Additional reporting by BBC Monitoring
---
Russians want tit-for-tat ban on BBC
The reported closure of the bank accounts of the Russian state-funded broadcaster RT (also known as Russia Today) in the UK has led to some Russians calling for the same to be done to BBC accounts in Russia on Twitter and VKontakte, the country's equivalent of Facebook.
While there hasn't been a huge response to the story (yet) we may see more comments like these appear in the coming days:
"Let's block BBC accounts and the rest of the hostile network."
"Goodbye, BBC Russian Service."
"This language they understand. An eye for an eye."
---