Presidential debate: 'Nasty woman' insult embraced by Clinton's female fans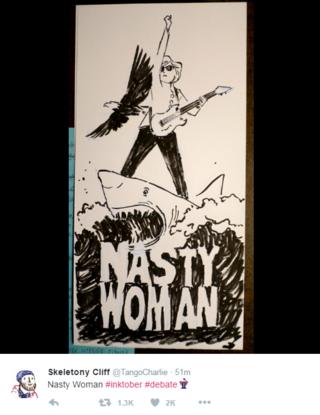 It has become clear from polling that Donald Trump is struggling with female voters, and his problems weren't likely to have been helped by a comment during Wednesday's debate.
Hillary Clinton was explaining her plans to raise taxes on the wealthy when she pointedly referred to Trump's possible tax avoidance: "My social security payroll contribution will go up, as will Donald's, assuming he can't figure out how to get out of it."
Trump's retort? "Such a nasty woman."
It quickly became one of the defining quotes of the night on social media.
Within an hour, around a quarter of a million tweets mentioned the phrase "nasty woman". Soon female Clinton supporters - along with a few men - were claiming the phrase as their own.
Hundreds linked the comment to another Trump utterance which inspired online rage, his description of some illegal immigrants as "bad hombres".
Some of Trump's supporters defended the remark. Diamond and Silk, two African-American women who have built a huge Twitter following through their support of the Republican candidate, tweeted: "Yes she is. Hillary can care less about the betterment of the American people. She had 30 years."
"Hillary is a nasty woman. There are nasty men and nasty women. Uh, is this complicated?" tweeted conservative radio presenter Mark Levin.
Others threw up their hands at yet another presidential debate that descended into personal attacks rather than keeping to the issues:
Blog by Mike Wendling
Read more US election coverage from BBC Trending: Trump's 'Bad Hombres' quip inspires mucho mocking memes
A solitary Spanish word uttered by Donald Trump during Wednesday's debate prompted an online storm of outrage.READ MORE
You can follow BBC Trending on Twitter @BBCtrending, and find us on Facebook. All our stories are at bbc.com/trending.