Presidential debate: Trump's 'Bad Hombres' quip inspires mucho mocking memes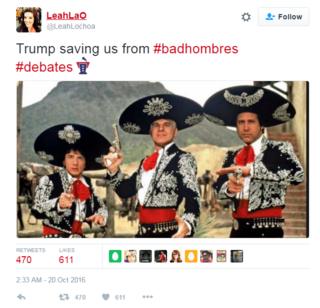 A solitary Spanish word uttered by Donald Trump during Wednesday's debate prompted an online storm of outrage.
Answering a question about immigration policy, the Republican candidate reiterated his support for a wall on the US-Mexico border and also touched on his plan to deport illegal immigrants: "We have some bad hombres here and we're going to get them out."
"Hombres" - Spanish for "men" - was immediately interpreted by many on Twitter as a reference to Mexicans and specifically to Trump's comments, made at the very start of his campaign, calling Mexican immigrants rapists and criminals.
Within minutes tens of thousands were tweeting about "Bad hombres", propelling the phrase up the worldwide list of trends. The memes rained down:
Messages under the hashtag were overwhelmingly negative towards Trump, with some mocking his pronunciation (literally translated, "hambres" means "hungers"):
Others wilfully misheard "hombre" as "ombre", a hair colouring style that gradually goes from dark at the roots to light at the tips - and posted pictures of the technique gone completely wrong:
Although a few Trump supporters did valiantly try to reclaim the tag and turn it against Hillary Clinton:
Blog by Mike Wendling
Read more US election coverage from BBC Trending:
The Americans campaigning for 'none of the above'
Faced with two unpalatable options, some Americans are urging voters to reject both of them. READ NOW
You can follow BBC Trending on Twitter @BBCtrending, and find us on Facebook. All our stories are at bbc.com/trending.