Killing of Pedals 'the walking bear' sparks hunting debate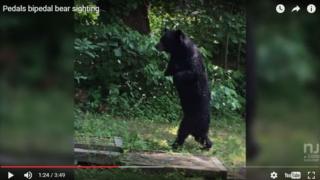 He may have been the internet's most cherished bear.
But news of the apparent slaying of Pedals - who became famous for walking upright on his hind legs through the suburbs of New Jersey - has outraged many animal lovers.
The "official fan page" for the animal, named 'Pedals The Injured Bipedal Bear', announced that the bear had been killed by a hunter with a bow and arrow last week, during the state's week-long legal hunting season. The Facebook page, which had more than 20,000 followers, has since been deactivated.
Reacting to the outcry, state officials have defended hunting as a way of keeping the bear population within sustainable limits.
Videos of Pedals - who is believed to have walked on just his hind legs because of maimed front legs - have been viewed thousands of times on YouTube. He was first spotted in 2014 after being filmed taking a stroll through the neighbourhoods of Oak Ridge. Internet stardom followed. As his fame grew, many became concerned for his welfare.
An online petition that asked state wildlife officials to place Pedals in a sanctuary gained more than 300,000 signatures. Similarly, a GoFundMe campaign to fund his relocation also raised more than $22,000.
So when the body of a bear, that resembled the famous furry mammal, was brought to Green Pond Station in Rockaway last week, during New Jersey's hunting season, several social media users drew comparisons with other famous animal deaths.
Activists identified the bear as Pedals, and immediately blamed authorities for his death.
"We wanted Pedals to go to a sanctuary to live the rest of his life without the threat of a hunt looming over him because someone wanted to pop him off because he was an internet sensation," said Angi Metler, director of the Bear Education and Resource Program, told the Guardian.
Lisa Rose Rublack, who started a petition to have Pedals relocated said Pedals should have been protected from the hunt, told CNN that fault lay with the New Jersey Department of Environmental Protection (NJDEP).
NJDEP spokesman Bob Considine told BBC Trending that without tagging there was no way to absolutely verify if the 333-pound carcass was Pedals. However, he added that: "The injured paws and chest blaze of this particular adult bear brought to Green Pond appear to be consistent with the bear seen walking upright on several videos taken from North Jersey residents over the past two years."
He went on to defend the State's bear hunt.
"While many have developed an emotional attachment to the upright bear, it is important to recognise that all black bears are wildlife. They are not pets. They are capable of doing damage, even in a compromised state. Additionally, there is no practical way to protect any single bear out of the estimated 3,000 bears roaming wild in bear country.
"New Jersey's annual black bear hunt is a management hunt, one tool to achieve the state's goals of having a sustainable bear population amid increased bear-human encounters and property and livestock damage, as well as expanding territories."
Mr Considine confirmed to BBC Trending that "a total of 562 bears" had been killed in the six day New Jersey hunt, and that he was not sure who had killed Pedals.
Since the news of Pedals' apparent death, some local politicians have said they will renew attempts to end the hunt. Among them is Senator Raymond Lesniak who has proposed a bill to ban black bear hunts in New Jersey for five years. In a Facebook post, he said: "Bear hunts are unnecessary and counterproductive. Let's put an end to them."
Blog by Megha Mohan
Next Story: Unrequited love up a cliff
Chinese climber paints giant portrait of her unrequited crush on cliff. READ MORE
You can follow BBC Trending on Twitter @BBCtrending, and find us on Facebook. All our stories are at bbc.com/trending.