US election: Debate nastiness consumes social media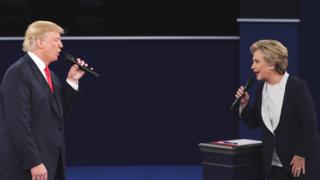 "Vicious." "Dirty." "Ugly."
Those were a few of the milder terms used by tens of thousands of people online to describe Sunday night's US presidential debate, as both candidates used the campaign set piece to launch their full social media arsenal towards the opposing side.
The opening salvo was actually fired before the candidates took the stage, when Donald Trump appeared on a Facebook Live video with three women who accused Bill Clinton of sexual misconduct. A fourth woman in the video is the victim in a rape case dating to the 1970s. Hillary Clinton was appointed to defend the woman's rapist.
The shaky video starts with about half a minute of silence, with Trump pointedly disregarding questions about his own vulgar comments in that leaked videotape.
The Clinton camp was clearly ready for the attack. Her Twitter feed shot back with a clip of the first lady Michelle Obama speaking at the Democratic National Convention: "When they go low, we go high". It was a line that Clinton repeated about 20 minutes into the debate.
Clinton's pinned Tweet - the post that appears at the top of her feed regardless of the chronological timeline below - included an attack ad featuring the Trump tape and a direct appeal to female voters.
As the candidates entered the arena there was an awkward moment - and yes, people noticed.
After a relatively low-key first question, moderator Anderson Cooper brought up the Trump tape.
---
#NotOkay: Sex assault outpouring after Trump video
Trump launches brutal attack on Clintons
---
The Republican candidate described his lewd comments as "locker room talk" before attempting to pivot to talk about Islamic State. Soon "locker room talk" was trending on Twitter, driven mostly by Trump opponents:
But in a reflection of how difficult it might be for Clinton to land a knockout blow in this acrimonious election season, a number of staunch supporters rushed to defend him. To take just one example:
An extended discussion about a presidential candidate's filthy comments was only the beginning, with Trump mentioning the sex assault accusations against Bill Clinton, Hillary Clinton's work as a public defender and threatening, if elected, to have her thrown in prison.
Throughout the night the campaigns traded blows online:
Apart from the sniping attacks, several other debate moments caught the attention of the public.
Melania Trump's outfit choice raised many an eyebrow after her husband's latest scandal.
She arrived at the second presidential debate wearing a $1,100 fuchsia pussy-bow style shirt.
The pussy-bow is a floppy bow tied at the neck that dates back to the 1930s. It's called such as it is said to mirror the style of bows tied around cats' necks.
Was this some kind of sartorial political statement in reference to her husband's controversial comments about women from the now infamous leaked videotape from 2005? What exactly was the hidden message?
Donald Trump's campaign spokesperson told @SopanDeb from CBS News that Melania's styling was simply a coincidence.
But the internet was not convinced.
Meanwhile, when the candidates were asked a question by a Muslim woman who asked how they would help people like her, the hashtag "Islamophobia" took off, along with the phrase "Muslims report stuff" - a response to Trump's suggestion that Muslim-Americans needed to be vigilant against radicalism in their own community.
Many Muslims poked fun at his comments.
Clinton's invocation of Abraham Lincoln in her attempt to explain an embarrassing leak of speeches to top bankers prompted a spate of memes about America's 16th president.
Most were in agreement about the debate: it was not pretty.
But we can't end this post without mentioning a somewhat lighter moment.
The "town hall" format of Sunday's debate put the spotlight on a few ordinary Americans who ask some of the questions.
And the resounding standout was Kenneth (aka Ken, or Kenny, or K) Bone.
It wasn't necessarily Bone's question ("What steps will your energy policy take to meet our energy needs while at the same time remaining environmentally friendly and minimising job loss for fossil power plant workers?") that lit Twitter on fire, but rather his name and his, um, unique style.
And yes, more than a few suggested that given the options on stage, they'd rather have a random guy from Missouri as their leader.
Blog by Mike Wendling
NEXT STORY: '$40 to hold my newborn baby'
Holding your newborn baby for the first time is said to be one of life's most precious moments. But how would you feel if you were charged for the privilege? READ MORE
You can follow BBC Trending on Twitter @BBCtrending, and find us on Facebook. All our stories are at bbc.com/trending.