The real cost of giving birth: '$40 to hold my newborn baby'
By BBC Trending
What's popular and why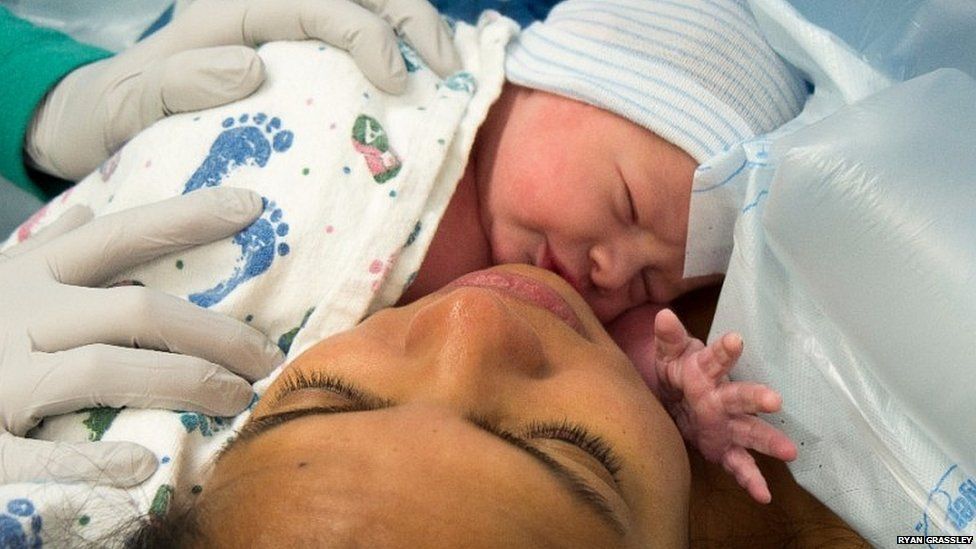 Holding your newborn baby for the first time is said to be one of life's most precious moments. But how would you feel if you were charged for the privilege?
That was the experience of Lidia and Ryan Grassley, whose baby Samuel was delivered by Caesarean section at a hospital in Utah in the US on 4 September.
When they received their hospital bill for more than $13,000 (£10,000), proud new father Ryan was surprised to find it included a $39.35 charge for "skin to skin", or holding the baby, immediately after the delivery.
Amused rather than annoyed, he posted a photo of the itemised bill on Imgur with the caption "I had to pay $39.35 to hold my baby after he was born."
"I was able to hold the baby on my wife's chest," Grassley wrote in the post, that has been viewed more than six million times.
"Her arms were tied to the table and the nurse was there to remind me not to let go so the baby didn't fall. She actually took my camera from me and started snapping pictures for me. It was a positive experience for sure. We just got a chuckle out of seeing that on the bill."
Whatever Ryan's intentions the image resulted in a heated, often strongly worded, debate about the cost of US healthcare.
"Healthcare is a human right. People should not be charged for it," commented Zombiedude101. "The fact that you had to pay for having your baby is beyond comprehension to me," wrote MonsieurBaptiste.
Many social media users, several of them outside the US, have also expressed astonishment that parents would be charged to hold their own baby. "It should be free and it's ridiculous it's not," wrote skiptomylucie.
But others have defended the charge.
"What isn't free is the extra nurse who has to sit by a drugged up mom who is undergoing major abdominal surgery so she doesn't drop the baby," wrote a social media user called firedoc.
"As someone who deals with American hospitals, they HAVE to document everything on a bill . If they don't then lawsuits and auditors pounce," commented GSinghSwali.
The Grassleys seem to have been taken by surprise by the strength of the reaction to their medical bill.
"To be clear I wasn't complaining or trying to send people on a witch hunt for the hospital," Ryan wrote online. "We had a very positive experience during the birth of our son, and the hospital and staff were great throughout the entire process. I posted the bill to Reddit because I thought it was funny. It has been interesting to see the shock from people around the world at the cost of medical expenses in the USA."
And in jest he has set up a crowd-funding page with a goal of $40 (£30) to pay for this part of his hospital bill. It's already raised several times its target. And Ryan jokes that the excess funding will be put towards paying for him to have a vasectomy because: "I never want to go through these sleepless new baby nights again".
BBC Trending asked Professor Andrew Street, from the Centre of Health Economics at the University of York, if it was unusual to find a charge like this on a hospital bill.
"I can't imagine such charges are common at all," Professor Street said. "But in health systems in which billing is common costs escalate, hospitals bill for ever more services, they invent new 'services', and they increase the price per service.
"Patients or their health insurance companies struggle to question and control this billing behaviour."
In response to the Grassleys' hospital bill, social media users have also been sharing their experiences of giving birth in different countries and comparing the price tags attached.
The US is the most expensive place in the world to give birth. According to Truven Health Analytics, the average bill for a natural birth in the US comes in at $30,000 (£24,000). That figure rises to $50,000 (£39,000) for a Caesarean section delivery.
But, as John Appleby, the chief economist at the British health think tank, the Nuffield Trust explains, there is also a maternity 'price list' for services in the National Health Service in England.
"In the UK people are absolutely not aware of the cost of treatment and shouldn't be," he told BBC Trending.
"But there are prices for the different things that hospitals do. NHS England has a menu of tariffs covering 1,500 or 2,000 different activities - everything from heart transplants to delivering a baby. It's the same price whichever hospital it is and a fixed price for everybody."
The average cost for a normal delivery or planned Caesarean section in the NHS in England in 2016 is £1755, rising to £2582 if there are complications.
"But that's the total price," John Appleby says, "there would be no further breakdown."