Depression sufferer's bedroom clean-up is online hit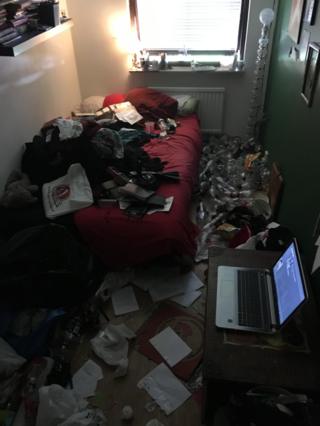 "Every man has his secret sorrows which the world knows not," according to an often-quoted line by the American poet Henry Wadsworth Longfellow.
One depression sufferer has now used social media to open a window onto their secret sorrows, to show not only how the condition affects their life, but to also record a small, but significant, personal victory.
The person, who uses a strongly worded username, published two photos of their bedroom on the photo-sharing site Imgur, in a post titled "Me 1 - Depression 0!" - which were viewed more than 300,000 times in less than 24 hours.
The first photo - reproduced above - is the most immediately striking. Dozens of empty bottles of soft drinks are strewn across the floor. Several used cotton buds keep them company. In fact, very little of the floor can be seen. The bed, too, is occupied by clothes, papers and a lone teddy bear.
"I suffer from severe depression and have a really hard time with cleaning and doing other kinds of household work," explains the caption. "My room have been this messy for several months because I can't push myself to take care of it. But this Friday I decided to finally do it!"
The second photo is the "after" image and shows the results of three days of cleaning.
"You can finally see that I have a floor!" they exclaim with pride.
"Say hi to my teddy Nalle on the bed! I know its not a big victory, but for me it means the world to just be able to have my door open if people come over. I feel so at peace right now, just wanted to share with all of you wonderful Imgurians."
Many of the supportive comments below the post are from fellow sufferers. "As a person who suffers from major depression, this makes me happy :) don't let it win!" was one.
"This gives me the motivation to do the same, way to go!" one person commented. Another said: "I have been suffering from bouts of depression and dealing with an eating disorder and my place is in disarray. This in inspiring."
However, others were less supportive. As we don't know the identity of the user, their location, sex or age, some wondered if the room really reflected the throes of depression - or was more a mirror of the lethargy of youth. "Don't worry I aint depressed and my room looks the same," wrote one person. Another comment - by somebody who may have had messy teenage bedrooms in mind - posed the question: "Where is the line between depression and lazy?"
It's not an uncommon question and not one posed solely by unsympathetic bystanders.
Type the words "lazy or depressed" into Google and more than a million results pop up. There are also several discussions on depression forums on how to self diagnose if one is unmotivated or clinically depressed.
The user - who BBC Trending has approached for comment - is certainly not alone in sharing how their depression has manifested itself in domestic chaos.
There are several social media pages where sufferers convene to speak about the cycle of messy homes and depression.
Users on the website Squalor Survivors also share images of their homes and post stories about their mental health.
For information on the symptoms of depression and treatment in the UK, visit NHS Choices
Blog by Megha Mohan
NEXT STORY: Why are some of China's happy couples getting divorced?
Shanghai couples rush to split up in the hope of buying more property. But need they have bothered? READ MORE
You can follow BBC Trending on Twitter @BBCtrending, and find us on Facebook. All our stories are at bbc.com/trending.