Headphone pick-up advice is not sweet music to women's ears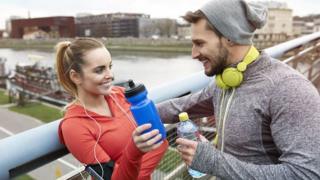 What is the point of having well-rehearsed pick-up lines if their intended target can't even hear them?
It's no good trying to chat up women in the street, on the train, or wherever, if their ears are otherwise occupied listening to music on their smartphone.
Self-styled "dating and relationship expert" Dan Bacon offered his solutions to this problem in a blog entitled "How to Talk to a Woman Who is Wearing Headphones". The article, on his website "The Modern Man", is packed with tips for would be Romeos/pick-up-artists on how to make a woman to remove her headphones before getting her to succumb to their charm.
But the internet has not responded positively to Bacon's wisdom. His words have been widely mocked. Many women have taken issue with advice which they believe promotes unwelcome invasion of their personal space and is more than a little creepy.
Bacon - who is based in Australia and charges men to learn his "controversial attraction techniques" which are guaranteed to "get results with women" - admits in his introduction: "Of course, not all women are open to being approached because not all women are single and looking."
He adds: "However, if a woman wearing headphones is single and hoping to meet a boyfriend (or even a new lover), she will almost always be happy to take off her headphones to give you an opportunity to create a spark with her."
To clear the way for spark creation Bacon offered a simple five-step plan.
Once the man has established that he is a "a cool guy", there is then further guidance on what he should do next including: remaining confident, not allowing her to ignore him and never "allowing her to take control of the interaction". Bacon even offers a transcript of how the ideal conversation might go.
The article has been shared widely across social media and Bacon's name started trending for all the wrong reasons. Some took it upon themselves to offer their own refinements to Bacon's advice.
Others imagined what Bacon might look like in pursuit of his prey.
And after Bacon's achievements with women wearing headphones, some wondered about other unlikely situations which he could advise on.
However, at the time of writing, it's not clear if Bacon will take up the challenge. He has yet to respond on his social media accounts to the spark that he has created and the headphone advice article appears to have been taken down.
NEXT STORY: The passengers who monitor Melbourne's ticket inspectors
You can follow BBC Trending on Twitter @BBCtrending, and find us on Facebook. All our stories are at bbc.com/trending.