The passengers who monitor Melbourne's ticket inspectors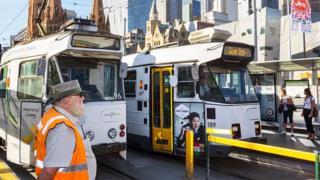 It's not on the list for the world's most unpopular job (debt collector in case you want to know), but if the more than 12,000 people in a closed Australian Facebook group called 'Where are our mates', had any say, tram conductors would top it.
The aim of the group, according to its administrator Cesar Rodrigues, is to "create conversation around the methods used by the ticket inspectors that police the public transport system in Melbourne."
Rodrigues tells BBC Trending that it is a group that "invites humour and fun" although, he adds, there are more serious issues underlying the discussion. Melbourne's ticket inspectors are referred to, ironically, as "mates". Rodrigues says it's to keep things respectful. He keeps the group closed to ensure he can keep an eye on what is being posted.
"We are very clear about the tone of the page," he says. "We do not want to harbour aggressive behaviour."
The rules of the group are pinned to the top of the page. Number one on the list is that fare evasion is not encouraged. Rule Number Six states that the "group has been started to alert FARE PAYING MEMBERS ONLY which lines their mates the ticket wardens are on so that they can ready their smiles and most importantly, their valid tickets."
People share images of the ticket inspectors. Some are taken on a tram.
Others on a lunch break.
Or just a comparison with "mates" from other parts of the world.
As you have probably picked up, the relationship between Melbourne's tram-travelling public and the system's ticket inspectors is not always a happy one. But why?
Transport in the state of Victoria has been subject to controversy since the 2012 introduction of the Myki system.
Myki, a contactless and reloadable ticket that allows the user to travel on Melbourne's trains, trams and buses, received 1,214 complaints about infringement notices and penalty fares in 2014-15. Aside from penalty fares, complainants also felt that the card-reading machines were slow and unreliable.
The most controversial aspect of the system was the on-the-spot fines for fare evasion. Passengers travelling without a valid Myki would be asked to pay an on-the-spot penalty of $75. If they failed to do so, they would be issued with a $223 ticket.
Robyn Edney, who is a customer resolutions manager in Melbourne, is also a member of the "Where are our mates" Facebook group.
"I have lived in Melbourne my entire life and as a child I experienced lovely and kind tram conductors who would help elderly people on and off the trams, discuss ticketing options and sometimes entertain the passengers," she told BBC Trending.
"These days it is quite the opposite, we have machines to top up our unreliable Myki cards and 'gangs' of authorised officers roaming the public transport network belittling anyone they want to pick on. Generally they target those less fortunate. It is truly a sad state of affairs."
Activists in Melbourne said that homeless travellers also felt victimised by Myki inspectors.
Following an independent investigation by the public transport ombudsman, Jacinta Allan, the minister for public transport, said the Myki system in its current form was "confusing, unfair and inequitable" and that it "penalises and intimidates the most vulnerable." She promised that the system would see an overhaul by 2017.
BBC Trending has approached Public Transport Victoria (which oversees the Myki system) for comment.
Blog by Megha Mohan
NEXT STORY: 'C-sections are not an easy way out'
New mother's vivid Facebook post on the shaming culture involved with Caesarean births goes viral. READ MORE
You can follow BBC Trending on Twitter @BBCtrending, and find us on Facebook. All our stories are at bbc.com/trending.