Liberté, Egalité, Burkini?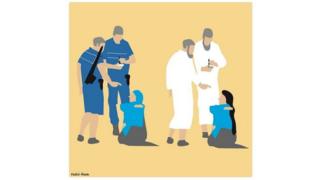 While some people in France have seen the controversial Burkini ban as a defence of female freedom and French values, others, both there and across the Arab world, have expressed the view that, it is an attack not only on women penalised by the restrictions, but also on Muslims in general.
Photos that appeared to show police forcing a Muslim woman to remove a burkini on a beach in Nice, have been widely shared on social media and provoked much comment. The penalty notice issued to the woman, and reported by the AFP news agency, cited her for not wearing "an outfit respecting good morals and secularism".
The hashtag #BurkiniBan has been used tens of thousands of times, as has #WTFFrance, an older hashtag, which has been repurposed by thousands more who have used it to protest or support the ban.
Many commenting on social media clearly see the police action as incompatible with the French national motto, which means "liberty, equality, fraternity".
Some saw this a situation in which women should show solidarity, even if they did not share the choices of those hit by the ban.
Many people have said the woman's right to wear a burkini had been unfairly restricted.
Other see hypocrisy in action.
And have discussed whether the notion of religious modesty, when it comes to attire, is only acceptable for Christians.
On Arab social media there has been criticism of the ban from several angles. One hashtag, which translates as #Committee-for-the-promotion-of-nudity, mocked the West for slamming the Saudi Islamic morality police known as the Committee for the Promotion of Virtue and the Prevention of Vice (CPVPV) for monitoring public behaviours and curbing personal freedoms while doing something similar in the "supposedly tolerant and democratic" French society.
"I do not know the difference between Daesh and French police," wrote one Saudi Twitter user.
Another Saudi user Waleed al-Zaylai slammed the ban and described Europeans as "Crusaders", saying: "Obviously they hate Arabs and Muslims. What gets on my nerves is when they say they spread peace and ethics. May God shame them, those crusaders."
The Kuwaiti writer Rania al-Saad, tweeted to her 140,000 followers that she lamented the "state of subjection Arab women have to face".
She opposed all forms of dress codes "forced upon" women, tweeting: "To have both the East and the West preoccupied with women's clothes and appearances is a setback for civilisation and a blow to women's freedom of choice."
However, some, especially in the West feel that the burkini ban is a good thing.
Some expressed surprise at the opposition to the ban.
They echoed the views of France's Marine Le Pen, the National Front leader, who expressed her strong support of the burkini ban by several seaside resorts on the French Mediterranean coast last week. Writing in her personal blog, she said:
"The soul of France is in question here … France does not lock away a woman's body, cover up half its population," wrote Le Pen. The controversial ban has been upheld by a local tribunal, but will come before the highest administrative court in France on Thursday.
Meanwhile, in Scotland, the hijab has introduced as an optional uniform for the police to try to encourage Muslim women to join.
Blog by Megha Mohan and additional research by Victoria Laurie and BBC Monitoring
NEXT STORY: The woman who is not ashamed to look
Indian woman takes on the trolls after writing in defence of the female gaze. READ MORE
You can follow BBC Trending on Twitter @BBCtrending, and find us on Facebook. All our stories are at bbc.com/trending.