Can social media save Syria's children?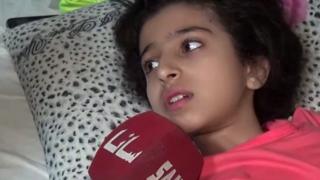 As the image of five-year-old Omran Daqneesh looking dazed and bloodied after an air strike on his Aleppo home went viral, the online conversation once again focused on children and war.
Omran Daqneesh is not the first Syrian child whose image has been shared thousands of times on social media this month. A high profile Twitter campaign resulted in the evacuation of a wounded girl from the besieged Syrian city of Madaya. More than 34,000 people used the hashtag #SaveGhina in order to focus attention on 10-year-old Ghina Wadi - Amnesty International said she was shot by a sniper when she went out to get medicine for her mother.
The Syrian government initially refused to let Wadi leave the town for medical treatment, but a social media campaign, as well as pressure from humanitarian authorities including Amnesty International and the United Nations, culminated in the Syrian Red Crescent arranging her transit to Damascus for treatment.
Madaya, which is 25km (16 miles) north of Damascus, has been under siege since mid-2015 by government forces and their allies from the Lebanese militant group Hezbollah. The situation has been described as "critical" by aid agencies. Some 40,0000 residents are said to be affected by food and medicine shortages.
Since Wadi's story went viral, several video appeals have sprung up on social media asking for the evacuation of children in similar situations.
On 15 August, a video showing a boy called Yaman Izz al-Din, also said to be in Madaya, was shared by a Facebook group called Hashtag Revolution. He is said to be suffering from acute meningitis.
"The boy has a high grade fever - if this lasts, he might lose his sight or become paralysed," says a man, who introduces himself as a doctor, as the boy screams in his bed.
The clip, which was viewed more than 5,500 times on Facebook, ends with an appeal by the doctor to the UN and Syrian Red Crescent to save his life.
Another clip on the Hashtag Revolution page shows the mother of a girl named Nisreen al-Shamaa appealing for her evacuation. The mother looks into the camera and says that her daughter has been ill for 25 days and can neither see nor move.
There have also been several tributes to children who have been killed in Syria's conflict.
The UN children's agency has warned that thousands of children in the Syrian city of Aleppo are at risk of disease, while the UN envoy to Syria, Staffan de Mistura, angrily condemned all parties for not doing enough to stop the fighting.
Research by BBC Monitoring
NEXT STORY: Bite Club: The shark attack survivors' group
Survivors of shark attacks are helping each other with their own online support network. READ MORE
You can follow BBC Trending on Twitter @BBCtrending, and find us on Facebook. All our stories are at bbc.com/trending.