Why do some people think this meme is racist?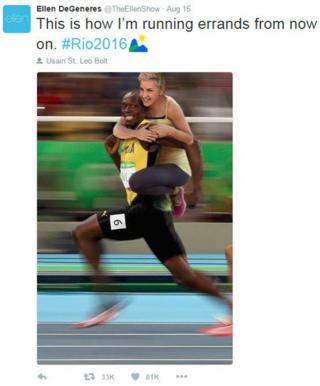 A tweet from US comedian and chat show host Ellen DeGeneres, depicting herself on Usain's Bolt's back, has been called racist.
"This how I'm running errands from now on," she wrote alongside a Photoshopped image of herself on the shoulders of Olympic 100m sprint champion Usain Bolt. The Jamaican is one of the tens of thousands of people to have retweeted it.
So was it an innocent joke or an ignorant jibe?
"I am highly aware of the racism that exists in our country. It is the furthest thing from who I am," the chat show host subsequently posted.
Some, however, didn't believe DeGeneres had fully grasped why people found her tweet offensive.
Opinion was divided and many came to her defence.
This is not the first time DeGeneres has been associated with a racism controversy. In April, an advert for a new clothing collaboration between the comedian and the brand Gap, was pulled following harsh criticism.
The image which featured a tall white girl resting her arm on the head of the shorter black girl, was described by critics as "passive racism".
Similarly, a 2015 a parody about Nicki Minaj's bottom also attracted criticism. Mic magazine said that it revealed a lack of respect for black women's bodies.
However, DeGeneres has also been widely lauded for calling out discrimination in the past.
Last month, she said the diversification of the Oscars membership was "long overdue". This followed controversy over the lack of black nominees in the top four acting categories.
"It's always amazing to me that it's taken this long for all of us to realise we should all be represented in film and television," she said ."There's a planet full of people that aren't white heterosexual. There's a lot of people of colour, fat people, people that aren't absolutely perfect."
Blog by Harry Low
NEXT STORY: Rio 2016: 'Hands off Caster' trends in South Africa
You can follow BBC Trending on Twitter @BBCtrending, and find us on Facebook. All our stories are at bbc.com/trending.