Rio 2016: How Michael Phelps' stretch got China talking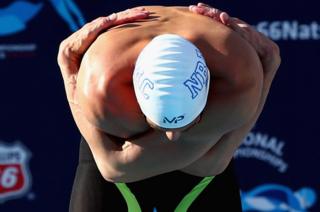 The most decorated Olympian of all time is inspiring Chinese people to copy his warm-up routine.
Last week, it was the purple spots on his body, the result of cupping, which drew attention. Now one of his more unusual pre-race stretching routines is causing an online stir.
Michael Phelps has an incredible 28 medals to his name, 23 of them gold. And before diving into the pool, he needs to stretch his muscles. Using all of his 6ft 3in (193cm) he somehow manages to wrap his hands around his back. Some have wondered if it's the stretching of his 80 inch wingspan that gives him his edge.
The hashtags #Feiyubao and #Feiyubaobimohoubei, which roughly translate as "Phelps crossing arms whilst touching his back", have been viewed more than 10 million times on Weibo alone. Many Chinese social media users have been trying to follow in the American swimmer's footsteps. Or should that be arm-swings?
One Weibo user posted: "I've succeeded in the competition of touching my belly button by reaching behind back. Here I am again!"
Another wrote: "I avoided the belly button and A4 waist competitions but couldn't avoid this one." BBC Trending covered the #A4waist challenge - in which women compare the size of their waists to the width of a standard A4 sheet of paper - at the height of its popularity in March.
Another wrote: "I feel that I've done better than this world champion. If I try harder, I can have my own two hands wrapped around me whilst shopping in public."
Last week Chinese swimmer Fu Yuanhui also captured the public imagination. During a post-race interview, her utter disbelief at her time of 58.95 seconds in the women's 100m backstroke created much merriment on social media.
Blog by Harry Low and Ruhua Xianyu
NEXT STORY: Verbose tweet inspires linguistic laughter from Indians
You can follow BBC Trending on Twitter @BBCtrending, and find us on Facebook. All our stories are at bbc.com/trending.