Verbose tweet inspires linguistic laughter from Indians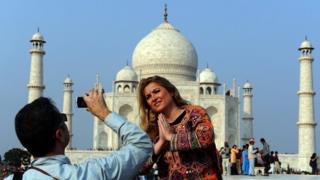 It's the home of the Taj Mahal and the Agra Fort. The holy river Ganges rises there. The northern Indian state of Uttar Pradesh is not short of a tourist or two.
But when Uttar Pradesh tourism board's official Twitter account published a tweet to promote the ancient city of Varanasi, a whole different form of attention was focused on the state.
It was this, now deleted tweet, that caused much merriment.
How often does one see 'unbeaten', 'sagacious', 'astuteness', 'figurine' and 'rectitude' all in one sentence, let alone one tweet? And let's not forget 'seizure', 'quietude', 'engraved' and 'transcendent', in the accompanying image.
The person that composed the tweet, social media users surmised, may have had help. Some fans of the TV series Friends pointed out that there was a precedent for such overly loquacious communication. The episode where Joey composed a 'smart' sounding recommendation letter for Monica and Chandler, and replaced each word with a more pretentious equivalent from a thesaurus.
Some wanted to play the UP tourism board at their own game.
Others fantasised scenarios where such a tweet may have come about. Perhaps it was a result of a marketing brainstorm?
Or maybe the tweeter had a personal point to prove?
But is all this point scoring just a little bit mean, vindictive, malevolent or even rancorous? A single innocent tweet demonstrating a wordsmith's linguistic dexterity never hurt anyone, right? It's not like UP's tourism board Twitter account has done this before or anything...
Oh, er, never mind.
Blog by Megha Mohan
NEXT STORY: 'Lightning marriage' after four-hour courtship
A couple who decided to marry after spending four hours together at a work function highlights the pressures on Chinese singletons. READ MORE
You can follow BBC Trending on Twitter @BBCtrending, and find us on Facebook. All our stories are at bbc.com/trending.